by Matthew Harrison and John Pless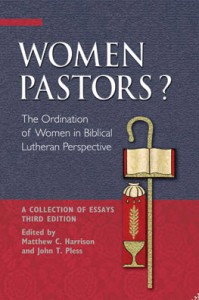 There are thirty essays in this volume, representing Lutheran churches throughout the world. The essays are divided into four sections: Biblical studies, historical studies, doctrinal studies and practical studies.
Phoebe: A Role Model for Deaconesses Today by Deaconess Cynthia Lumley
Dr. Cynthia Lumley, associate director of deaconess studies at Concordia Theological Seminary, Fort Wayne, Indiana, takes up the case of Phoebe, who is mentioned briefly in Roma. 16:1-2. Lumley demonstrates how this Christian woman served not as a minister of the Word but in a way that reflected the sacrificial character of Jesus Christ in her support of the work of apostolic ministry.
Disciples But Not Teachers:1 Corinthians 14:33b-38and 1 Timothy 2:11-15 by Dr. John Kleinig
Dr. John Kleinig, recently retired after a distinguished teaching career as pastor and seminary professor in the Lutheran Church of Australia, examines 1 Cor. 14:33b-28 and 1 Tim. 2:11-15, demonstrating that women are and must be disciples of Jesus but are not to teach in the liturgical assembly.
The Use of Tractate 26 to Promote the Ordination of Women by John Kleinig — In this shorter piece, Dr. Kleinig argues that Philip Melanchthon's confession that the ministry of the New Testament is not bound to persons, as was the Levititcal priesthood of the Old Testament, does not open the way for the ordination of women [or actively homosexual persons!]. On the contrary, Melanchthon grounds the authority of the office on the institution of Christ in contrast with the purely human authority of the papacy. The ordination of women is an act of human authority; it cannot be demonstrated as being instituted by Christ.

The Ordination of Women and the Ecclesiastical Endorsement of Homosexuality: Are They Related? by John T. Pless
John T. Pless, assistant professor of pastoral ministry and missions at Concordia Theological Seminary, Fort Wayne, Indiana, examines the coherence and parallelism of theological arguments now being offered for the ordination of practicing homosexuals with those arguments that were and are made for the ordination of women.
Giver to Receiver: God's Design for the Sexes by Adriane Dorr
Adriane Dorr, managing editor of The Lutheran Witness, examines God's design for man and woman noting that the differences between male and female are reflected in God's ordering of the life of both family and church for our blessing.
Vocational Boundaries: The Service of Women within The Lutheran Church—Missouri Synod by Kimberly Schave
Deaconess Kimberly Schave applies the doctrine of vocation to the issue of the ordination of women in "vocational boundaries," lifting up how women are called by God to serve in home, church and world.
---
 Music on this program included:
"Flippin' the Pages" composed by Terry Herald, ASCAP, Copyright 2012, GOH LLC