by Matthew Harrison
Illustrated by Kurt Onken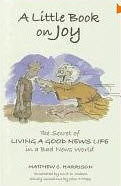 Rediscover the joy of being a Christian! LCMS president Matthew Harrison has produced a well written exploration of the nature of life in the fallen world and the joy that we have in Christ. Read about the joy of life together in community, marriage, and family, or the joys of humor, worship, the sanctity of life, and the wonders of creation.
Includes:
Study questions at the end of each chapter, perfect for Bible study or small group study.
A Prayer Guide for "The Great Ninety Days of Joy after Joy with texts and prayers from Ash Wednesday through Pentecost.
"Something to Think About" questions are included at the end of each chapter.
What Others are Saying:
Matthew Harrison takes the subject of joy and succinctly brings it into clear view. Something that any "dyed in the wool" Christian—even a staunch German Lutheran—can grasp and embrace. The book provides a fresh and honest look at how and why joy is an integral part of one's life."
Cheri Fish
President—Michigan District LWML
"A singular contribution! Matt Harrison's A Little Book on Joy is a big book in great need today. In his characteristically incisive manner, Matt has given today's Christian the keys to real joy—the kind the Savior intended, and the kind he created in his life, death, and resurrection. I commend it to all as a healthy antidote to the travails of modern life. Matt continues to be one of the most interesting, topical, and important authors on today's theological scene."
Leo Mackay
Vice President—Corporate Business Development
Lockheed Martin Corp.
Past Deputy Secretary of Veterans Affairs, Washington D.C.
"Let's face it: serious Lutherans too often come across as dour sourpusses. A Little Book on Joy shatters that caricature. Matt Harrison leads readers on an exuberant romp through the Scriptures and the multiple facets of unbridled Christian joy."
Rev. Harold L. Senkbeil, STM, DD
Executive Director, DOXOLOGY: The Lutheran Center
for Spiritual Care and Counsel
---
 Music on this program included:
"Flippin' the Pages" composed by Terry Herald, ASCAP, Copyright 2012, GOH LLC