by Rob Plummer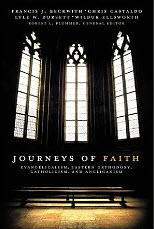 Research indicates that on average, Americans change their religious affiliation at least once during their lives. Today, a number of evangelical Christians are converting to Catholicism, Eastern Orthodoxy and Anglicanism. Longtime Evangelicals often fail to understand the attraction of these non-Evangelical Christian traditions. Journeys of Faith examines the movement between these traditions from various angles. Four prominent converts to Eastern Orthodoxy, Catholicism, Evangelicalism and Anglicanism describe their new faith traditions and their spiritual journeys into them. Response chapters offer respectful critiques.
Contributors include Wilbur Ellsworth (Eastern Orthodoxy), with a response by Craig Blaising; Francis J. Beckwith (Roman Catholicism), with Gregg Allison responding; Chris Castaldo (Evangelicalism) and Brad S. Gregory's Catholic response; and Lyle W. Dorsett (Anglicanism), with a response by Robert A. Peterson.
This book will provide readers with first-hand accounts of thoughtful Christians changing religious affiliation or remaining true to the traditions they have always known. Pastors, counselors and students of theology will gain a wealth of insight into current faith migration within the church today.
About the Author:

Robert L. Plummer (Ph.D., The Southern Baptist Theological Seminary) is Associate Professor of New Testament Interpretation at The Southern Baptist Theological Seminary, Louisville, Ky. Dr. Plummer is the author of '40 Questions About Interpreting the Bible' (Kregel, 2010), 'Paul's Understanding of the Church's Mission' (Paternoster, 2006), and many other articles and essays. Dr. Plummer is an elder at Sojourn Community Church, Louisville, Ky. He has served on mission assignments in China, Malaysia, Ghana, Israel, Turkey, and Trinidad. He and his wife Chandi have three daughters. During his spare time, Dr. Plummer enjoys running mini-marathons and drinking hot tea.
---
 Music on this program included:
"Flippin' the Pages" composed by Terry Herald, ASCAP, Copyright 2012, GOH LLC
www.terryherald.com