by Klemet Preus
Part 1 of 2
Through stories of his own pastoral experiences, reflections on the Lutheran Confessions, the writings of Martin Luther, and Scripture itself, Klemet I. Preus explores the impact of the American Evangelical and Church Growth Movements on the modern Lutheran Church. He reminds readers that practice and doctrine are inextricably linked for those who are the body of Christ.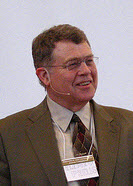 "The Fire and the Staff captures the relationship between doctrine and practice. Doctrine is like a fire. It lights our way and warms us. Doctrine and practice are more closely related, even interdependent, than is often realized. Doctrine affects practice and practice affects doctrine. The two are so intimately woven together that when you change one, you will inevitably change the other, sometimes without realizing what has happened." — from the Introduction
Like what you hear on KFUO? Like Us on Facebook!
---
 Music on this program included:
"Flippin' the Pages" composed by Terry Herald, ASCAP, Copyright 2012, GOH LLC