by Bill Hecht
Part 2 of 2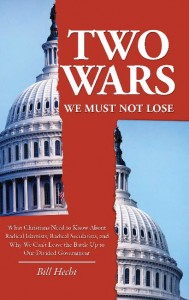 Secularism and the rise of Islam around the world are hot-button issues in society today. In a response to both, Concordia Theological Seminary Press has published Two Wars We Must Not Loseby Mr. Bill Hecht. He has worked more than 40 years in Washington, D.C., first as a congressional aide and then as a lobbyist. He also served as a Lutheran pastor in Illinois and Oklahoma until 1967. After working in the Reagan for President Campaign, he started Hecht, Spencer & Associates in 1981 and still serves as its president.
"In his career on Capitol Hill, he has had unparalleled access to and knowledge of every significant political person and event in Washington D.C., over the past 40 years," commented the Rev. Dr. Matthew C. Harrison, president, The Lutheran Church—Missouri Synod. "If I could recommend one book for clergy and laity to read on the crisis of the American experience, how we got here, and what we must do, hands down, this book is it."
"Whether or not you agree with all of Bill Hecht's points, there is no question that he is uniquely positioned, as a theologically trained LCMS Lutheran, to interpret past, present and future challenges," says the Rev. Dr. Lawrence R. Rast Jr., president, Concordia Theological Seminary, Fort Wayne.
Mr. Hecht will be on the CTS campus for a book signing event and to present "The Christian Challenge in the Public Square: A Lutheran Voice," on January 24, 2013, as part of the 36th Annual Symposium on The Lutheran Confessions.
Like what you hear on KFUO Radio? Like us on Facebook Today!
---
 Music on this program included:
"Flippin' the Pages" composed by Terry Herald, ASCAP, Copyright 2012, GOH LLC
www.terryherald.com