By Russell Cronkhite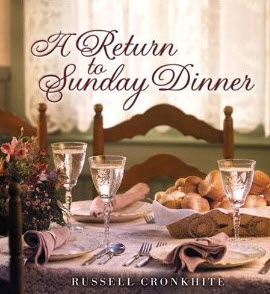 Sunday dinner is more than just a meal – it's a time for food, fellowship, and the creation of long-lasting memories! Americans will be inspired to rekindle the tradition of hospitality among family and friends with this mouthwatering culinary collection, designed for any cook with basic kitchen resources. Russell Cronkhite, former executive chef of the Blair House – the presidential guest house – has served three U.S. presidents and nearly every major world leader. A Return to Sunday Dinner includes twenty complete menus (with over 100 recipes) that highlight regional influences on cookery and explore the rich spiritual heritage of the American family.
Like what you hear on KFUO Radio? Like us on Facebook Today!
---
 Music on this program included:
"Flippin' the Pages" composed by Terry Herald, ASCAP, Copyright 2012, GOH LLC
www.terryherald.com