***Two books today! Scroll down to see it all!***
[twocol_one]
by Ray Keating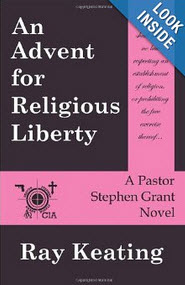 'An Advent for Religious Liberty: A Pastor Stephen Grant Novel' by Ray Keating — Advent and Christmas approach. It's supposed to be a special season for Christians. But it's different this time in New York City. In AN ADVENT FOR RELIGIOUS LIBERTY: A PASTOR STEPHEN GRANT NOVEL, religious liberty is under assault. The Catholic Church has been called a "hate group." And it's the newly elected mayor of New York City who has set off this religious and political firestorm. Some people react with prayer – others with violence and murder. Stephen Grant, former CIA operative turned pastor, faces deadly challenges during what becomes known as "An Advent for Religious Liberty." Grant works with the Cardinal who leads the Archdiocese of New York, the FBI, current friends, and former CIA colleagues to fight for religious liberty, and against dangers both spiritual and physical. AN ADVENT FOR RELIGIOUS LIBERTY: A PASTOR STEPHEN GRANT NOVEL is a thriller torn from today's headlines. It's a different, fast-paced, action-packed story of politics and violence trying to undermine faith during the Advent and Christmas season. Amazon.com readers have compared Ray Keating's thrillers to the works of Clancy, Ludlum, Grisham, and Cussler. Keating's previous books include WARRIOR MONK: A PASTOR STEPHEN GRANT NOVEL and ROOT OF ALL EVIL? A PASTOR STEPHEN GRANT NOVEL.
[/twocol_one][twocol_one_last]
by Alan Kornacki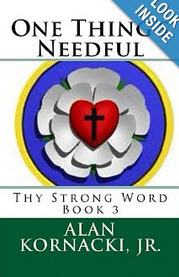 'One Thing's Needful: Thy Strong Word Book 3' by Alan Kornacki — Pastor Justin Corwin of St. Michael Lutheran Church in Carousel, New York, and his wife, Detective Beth Corwin of the Carousel Police Department, find themselves in the midst of tribulation. Beth's body has betrayed her, making an unwanted surgery a necessity. Justin is dealing with uncertainty regarding his effectiveness as Pastor and as Chaplain of the Carousel Fire Department. Both of them are finding that it's not as easy to live their God-given vocations as they had hoped. Will they require a change of scenery to again find the joy in the Lord which seems so hard to obtain?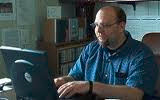 [twocol_one_last]
---
[twocol_one]

[/twocol_one] [twocol_one_last]—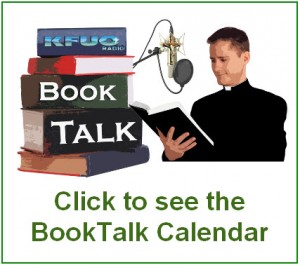 [/twocol_one_last]
---
 Music on this program included:
"Flippin' the Pages" composed by Terry Herald, ASCAP, Copyright 2012, GOH LLC
www.terryherald.com