Wittenberg vs. Geneva: A Biblical Bout in 7 Rounds on Doctrines that Divide
by Brian Thomas
Brian William Thomas serves as the pastor of Faith Lutheran Church in Kingston, Washington. His writing focuses on historic Lutheranism in a post-Christian culture and reclaiming ancient pastoral practices for present day service. His forthcoming book from NRP is entitled, Wittenberg vs. Geneva: A Biblical Bout in 7 Rounds on Doctrines that Divide.

Wittenberg vs. Geneva will be available in early 2016.
Learn more at Brian Thomas and his work HERE.
---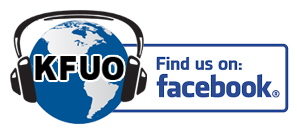 Music on this program included: "Flippin' the Pages" composed by Terry Herald, ASCAP, Copyright 2012, GOH LLC, www.terryherald.com