---
The Top Ten Books of 2013
What a joy to read and interview the authors of great Christian books!  These twelve particularly grabbed my attention, and believe they will for you to.  Should be mentioned that there were many other worthy contenders for this list.  So hard to limit it to Ten, but here they are.
Which one do you think should be, the first ever, annual:  BOOKTALK BOOK OF THE YEAR FOR 2013?
Email your pick to KFUO@kfuo.org with "Book of the Year" in the subject line. We look forward to hearing from you!
---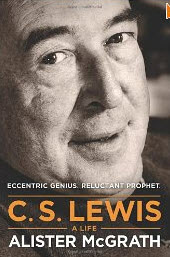 1.     C. S. Lewis – A Life: Eccentric Genius, Reluctant Prophet by Alistair McGrath

Fifty years after his death, C. S. Lewis continues to inspire and fascinate millions. His legacy remains varied and vast. He was a towering intellectual figure, a popular fiction author who inspired a global movie franchise around the world of Narnia, and an atheist-turned-Christian thinker.
In C.S. Lewis—A Life, Alister McGrath, prolific author and respected professor at King's College of London, paints a definitive portrait of the life of C. S. Lewis. After thoroughly examining recently published Lewis correspondence, Alister challenges some of the previously held beliefs about the exact timing of Lewis's shift from atheism to theism and then to Christianity. He paints a portrait of an eccentric thinker who became an inspiring, though reluctant, prophet for our times.

---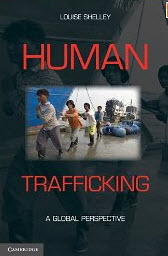 2.   HUMAN TRAFFICKING: A HUMAN PERSPECTIVE BY LOUISE SHELLEY
This book examines all forms of human trafficking globally, revealing the operations of the trafficking business and the nature of the traffickers themselves. Using a historical and comparative perspective, it demonstrates that there is more than one business model of human trafficking and that there are enormous variations in human trafficking in different regions of the world. Drawing on a wide body of academic research – actual prosecuted cases, diverse reports, and field work and interviews conducted by the author over the last sixteen years in Asia, Latin America, Africa, Europe, and the former socialist countries – Louise Shelley concludes that human trafficking will grow in the twenty-first century as a result of economic and demographic inequalities in the world, the rise of conflicts, and possibly global climate change. Coordinated efforts of government, civil society, the business community, multilateral organizations, and the media are needed to stem its growth.
Learn more about Human Trafficking at slaveryfootprint.org and at www.lirs.org
---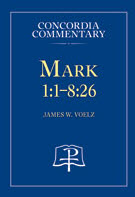 3.  
MARK: GOSPEL COMMENTARY—1:1-8:26
BY DR. JAMES VOELZ
The reign of God has come in Jesus Christ, but in hiddenness, in humility and lowliness. Jesus came to serve and give his life as a ransom for many (10:45). Jesus promised a triumphant revelation of himself after the cross (14:28), but within Mark (ending at 16:8) the disciples do not yet see the glorious, risen Christ. They only have his Word (16:6–7). So also we Christians do not see him and the kingdom fully implemented and manifested now. How difficult it is to be faithful on the basis of the Word alone—the disciples are testimony to that fact! If you had been there, it would not have been any easier for you than it is today. The evidence you have is what the disciples and the women had, also on that Easter morning: the promise of His Word, a Word that is ever sure.
---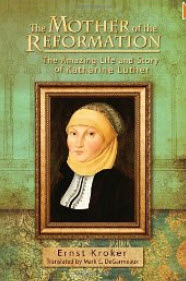 4.    THE MOTHER OF THE REFORMATION: THE AMAZING STORY AND LIFE OF KATHERINE LUTHER    
BY ERNEST KROKER/TRANSLATED BY MARK DeGARMEAUX
Kroker paints an intimate picture of Katie and of family life in the Black Cloister during the formative years of the Reformation, showing how Katie s marriage to Martin Luther was a multifaceted vocation, with such tasks as household brew mistress, cloister landlady, property overseer, gardener, cow- and pig-herder, and fishwife. Indeed, Katie oversaw their home much like a lord in her kingdom, yet in the midst of it all stood the man to whom her work, concern, and duty were directed.
This readable, fresh translation of one of the standard biographical works on Katie Luther presents a compelling portrait for those desiring to know more about this quietly influential Reformation character.  Mark DeGarmeaux brings the warmth of Kroker s writing to a new generation of those interested in the Reformation and especially in Katie, the woman behind the hammer

---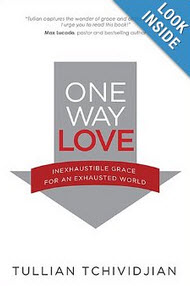 5.   ONE WAY LOVE: INEXHAUSTIBLE LOVE FOR AN EXHAUSTED WORLD  
BY TULLIAN TCHIVIDJIAN
Real life is long on law and short on grace—the demands never stop, the failures pile up, and fear sets in. Life requires many things from us—a stable marriage, successful children, a certain quality of life. Anyone living inside the guilt, anxiety, and uncertainty of daily life knows that the weight of life is heavy. We are all in need of some relief.
Bestselling author Tullian Tchividjian is convinced our exhausted world needs a fresh encounter with God's inexhaustible grace—His one-way love. Sadly, however, Christianity is perceived as being a vehicle for good behavior and clean living—and the judgments that result from them—rather than the only recourse for those who have failed over and over and over again. Tchividjian convincingly shows that Christianity is not about good people getting better. If anything, it is good news for bad people coping with their failure to be good.
In this "manifesto," Tchividjian calls the church back to the heart of the Christian faith—grace. It is time for us to abandon our play-it-safe religion, and to get drunk on grace. Two hundred-proof, unflinching grace. It's shocking and scary, unnatural and undomesticated … but it is also the only thing that can set us free and light the church—and the world—on fire.
---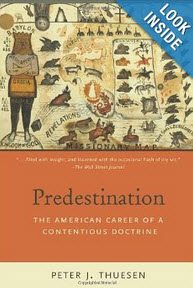 6.   PREDESTINATION: THE AMERICAN CAREER OF A CONTENTIOUS DOCTRINE  
BY PETER J. THUESIN
Winner of the Christianity Today 2010 Book Award for History/Biography, and praised in Christian Century as "witty…erudite…masterful," this groundbreaking history, the first of its kind, shows that far from being only about the age-old riddle of divine sovereignty versus human free will, the debate over predestination is inseparable from other central Christian beliefs and practices–the efficacy of the sacraments, the existence of purgatory and hell, the extent of God's providential involvement in human affairs–and has fueled theological conflicts across denominations for centuries. Peter Thuesen reexamines not only familiar predestinarians such as the New England Puritans and many later Baptists and Presbyterians, but also non-Calvinists such as Catholics and Lutherans, and shows how even contemporary megachurches preach a "purpose-driven" outlook that owes much to the doctrine of predestination. For anyone wanting a fuller understanding of religion in America, Predestination offers both historical context on a doctrine that reaches back 1,600 years and a fresh perspective on today's denominational landscape.
---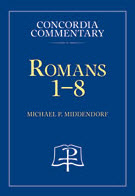 7.   ROMANS 1:1-8 COMMENTARY   BY MICHAEL MIDDENDORF
About This Volume:
This commentary articulates the meaning of the Greek text of Romans in its original context for the benefit of the church and world today. Those without any knowledge of Greek will also profit from utilizing the volume. It provides insights that will enhance the understanding and effectiveness of scholars, pastors, and teachers who have the privilege of proclaiming Paul's most famous letter. This commentary seeks to be theologically thorough in as few words as possible. Romans is the Spirit-breathed, living, and powerful Word of God. Its purpose is to bestow the righteous of God, which comes through faith alone, and to inculcate the life of faith in and through our Lord Jesus Christ.

---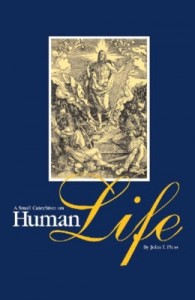 8.   A SMALL CATECHISM OF HUMAN LIFE  BY JOHN PLESS
Examine abortion, bioethics, end-of-life, and sexuality issues through the Biblical eyeglasses of Luther's Small Catechism. Thorough but lay-friendly, each chapter is followed by thoughtful discussion questions and Bible references. This beautiful hardback edition has historic woodcut illustrations throughout.
---
9.   WITNESS: ERLANGEN SERMONS AND ESSAYS FOR THE CHURCH—1933-1944  HERMAN SASSE    TRANSLATED BY BROR ERICKSON
Hermann Sasse spoke with a lucid and often prophetic voice in the dark years of Hitler's rule in Germany and its disastrous aftermath. His sermons sounded forth for all who would hear him the heart and core of confessional Lutheran theology: Christ Jesus crucified for sinners. Biblical and timely, Sasse still calls out to the Church today through this translation. All those who take the time to listen will be richly blessed through his faithfulness to the Scriptures, insights into the hearts of men and the grace of the Savior, and his deep knowledge of the history of the Christ's Church.
---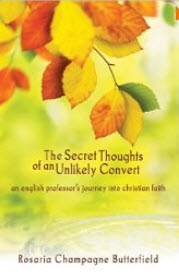 10.    THE SECRET THOUGHTS OF AN UNLIKELY CONVERT   BY ROSARIA CHAMPAGNE BUTTERFIELD
Rosaria, by the standards of many, was living a very good life. She had a tenured position at a large university in a field for which she cared deeply. She owned two homes with her partner, in which they provided hospitality to students and activists that were looking to make a difference in the world. There, her partner rehabilitated abandoned and abused dogs. In the community, Rosaria was involved in volunteer work. At the university, she was a respected advisor of students and her department's curriculum. And then, in her late 30s, Rosaria encountered something that turned her world upside down-the idea that Christianity, a religion that she had regarded as problematic and sometimes downright damaging, might be right about who God was, an idea that flew in the face of the people and causes that she most loved. What follows is a story of what she describes as a "train wreck" at the hand of the supernatural. These are her secret thoughts about those events, written as only a reflective English professor could. Conversion put me in a complicated and comprehensive chaos.
"I sometimes wonder, when I hear other Christians pray for the salvation of the "lost," if they realize that this comprehensive chaos is the desired end of such prayers. Often, people asked me to describe the "lessons" that I learned from this experience. I can't. It was too traumatic. Sometimes in crisis, we don't really learn lessons. Sometimes the result is simpler and more profound: sometimes our character is simply transformed." -Rosaria Champagne Butterfield