We need YOUR support!
Each day, KFUO Radio gives you the nourishment found in God's Word through bible studies, devotions, sacred music, and worship services. When you partner financially with KFUO Radio, you help us bring the Word of Christ to people at home and all over the world who are starving to hear the promises of Christ found in His death and resurrection.

Put KFUO Radio & Sharathon in your church bulletin!
Share KFUO Radio and Sharathon with your congregation by downloading and printing this black & white bulletin insert.

Support KFUO Radio
Participate in Sharathon 2019 LIVE from April 25-27 by calling 314-821-0850 or 800-730-2727. If you can't wait until then, here are more ways to support KFUO Radio!
Text KFUO to 41444 to donate via text message
Follow this link to our online donation page.
Send an email to

Gifts@KFUO.org

Call Mary Schmidt at 314-996-1518.
We deeply appreciate your support!

In Romans 10:17 we read, "Faith comes from hearing, and hearing through the word of Christ." There is a great need among the people of this world to hear the word of Christ. It is a need to hear about the hope, love, mercy, and salvation found only in Christ.
YOU are fulfilling this great need when you partner with KFUO Radio! Jesus has called each of us to "go and make disciples of all nations." (Matt 28:19)
When you partner with us, KFUO becomes your voice to declare the Gospel of Christ to those still in darkness. Jesus said, "As the Father has sent me, even so I am sending you." (John 20:21) When you make a gift to KFUO, we together as one voice go out into the world and proclaim the Good News of Christ through our radio ministry.
KFUO and YOU, bringing Christ to the world — anytime, anywhere!
Listen live to Sharathon 2018 April 19–21.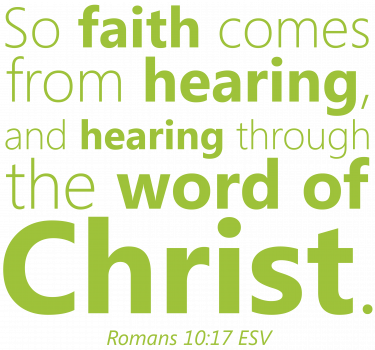 Giving Levels
Your Sharathon 2019 gift helps KFUO Radio bring Christ to everyone — anytime, anywhere! We appreciate gifts of any size. Give at these levels and receive special KFUO-branded items to show and share your love of KFUO Radio!
$1500 Annual or $125/month  |  Receive a KFUO Ceramic Coaster Set
These 4 ceramic coasters will absorb all moisture and condensation from your cup and save your tables from the dreaded Cup Stain! When not in use, display the beautiful KFUO stained glass design in its bamboo stand.
$720 Annual or $60/month  |  Receive a KFUO Jumbo  18oz. Coffee Mug
Enjoy your tasty beverage in the new KFUO 18oz Ceramic Mug featured in a two-tone blue (matte on the outside, glossy on the inside) and wrapped with the KFUO Logo and Romans 10:17. Mug is both microwave and dishwasher safe.
$480 Annual or $40/month  |  Receive a KFUO Day Sponsorship
Choose an exclusive day to have us honor your loved ones on their birthday, anniversary, confirmation, graduation, or you can remember a loved one who is now with their Savior.
$240 Annual or $20/month  |  Receive a KFUO Premium  T-Shirt
Let everyone know about KFUO when you wear this year's  comfortable tri-blend KFUO T-Shirt with the KFUO logo on the front and Romans 10:17 on the back. Your choice of Steel Blue or Clover Green. Sizes Small through 4XL.
$120 Annual or $10/month  |  Receive a KFUO Thumbs-Up Phone Holder
This flexible plastic phone/tablet holder featuring novelty "thumbs-up" hands has a steel spring grip that securely holds your device in place. Featured in black with the KFUO Logo in white. Phone not included.

Call us during Sharathon
April 19-21
Worldwide: (800) 730-2727
St. Louis: (314) 821-0850
Text-to-Give

Text KFUO to 41444.
Receive a message
to complete your gift.