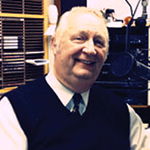 Pastor Baker discusses theological distinctions between Law & Gospel.
Topics of Discussion:
(1) Insight on how what we think are good works are sin.
(2) Asking help from dead people.
(3) Receiving bread of  the  Lord's Supper.
(4) Caller: Good works for our neighbor are???
(5) Caller: James 2:8-9 about showing partiality.