Who is our Father in Heaven?
Who is our Father in Heaven and how does he provide for our needs and the needs of all people? Faculty, staff, and a student from the Concordia Center for the Family at Concordia University, Ann Arbor. Discuss the CUAA Family Life Program.  Guests: Prof. Ben Freudenberg, Program Director; Jennifer Freudenberg, Project Manager; Tyler Cronkright, student.
---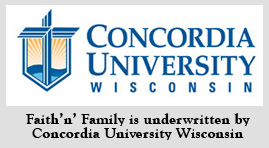 Send in your family questions to Family@kfuo.org or call host Andy Bates at (314) 996-1519 .
---