26th Anniversary of the ADA with Bethesda Lutheran Communities
The Americans with Disabilities Act was made law on July 26, 1990. Bethesda Lutheran Communities is celebrating the 26th anniversary of the ADA with a week-long online giving program. Bethesda staff members Mike Thirtle, President and CEO; Mark Hagen, Corporate Director of Public Policy; and Sean O'Connell, Director of Annual Giving at Bethesda give insight into the ADA, its importance for people with disabilities, and how to support the very important work that Bethesda does in the lives of those people.
To participate in the week-long online fundraising program, visit bethesdalutherancommunities.org/ADA2016.
---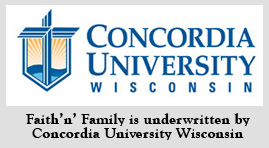 Send in your family questions to Family@kfuo.org or call host Andy Bates at (314) 996-1519 .
---