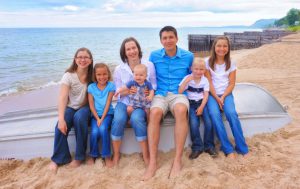 Rev. Nathan and Sarah Esala spent many years in Ghana, West Africa, as missionaries with Lutheran Bible Translators. Right now they are back in the States, and we took the opportunity to talk with Sarah Esala about what life is like in Ghana as a missionary. Learn more about Nathan and sarah's work in Ghana on LBT's website us.lbt.org/project/rev-nathan-sarah-esala. Learn more about the Esalas work as missionaries on their website esalas.org.
Read their bio here:
Rev. Nathan and Sarah Esala served the Likɔɔnl (or Komba) Bible project in Ghana, West Africa beginning 2003. Nathan's role as a translation advisor presented new experiences such as: Developing partnerships with the Komba church and community leader, analyzing/documenting the linguistics of the language, checking translated drafts for quality, assisting in final New Testament revisions for publication, driving a hard bargain, and controlling water run-off.
Currently, Nathan is serving as the Translation Coordinator for LBT. He desires to discover and facilitate excellent practices in Bible translation and missiology for Lutheran Bible Translators in partnership with African colleagues. To help accomplish that goal, Nathan is enrolled as a Ph.D. student at the University of KwaZulu-Natal in South Africa.
He has an incredible wife, Sarah, and five fabulous children Karissa, Annaka, Aili, Isaac, and Eliot.
Read more about how to support the Esalas at us.lbt.org/project/rev-nathan-sarah-esala.
Listen to the entire Faith & Family program from October 28, 2016, here.
---