1. Meditation on the Day's Psalm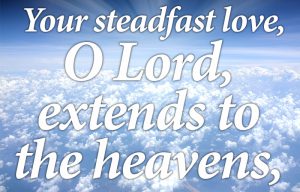 Rev. Jonathan Fisk gives a meditation on the Psalm of the Day, Psalm 36:1-6, 10.
Psalm 36:1-6, 10
How Precious Is Your Steadfast Love
To the choirmaster. Of David, the servant of the

Lord

.
36 Transgression speaks to the wicked
    deep in his heart;[a]
there is no fear of God
    before his eyes.
2 For he flatters himself in his own eyes
    that his iniquity cannot be found out and hated.
3 The words of his mouth are trouble and deceit;
    he has ceased to act wisely and do good.
4 He plots trouble while on his bed;
    he sets himself in a way that is not good;
    he does not reject evil.
5 Your steadfast love, O Lord, extends to the heavens,
    your faithfulness to the clouds.
6 Your righteousness is like the mountains of God;
    your judgments are like the great deep;
    man and beast you save, O Lord.
10 Oh, continue your steadfast love to those who know you,
    and your righteousness to the upright of heart!
Footnotes:
Psalm 36:1 Some Hebrew manuscripts, Syriac, Jerome (compare Septuagint); most Hebrew manuscripts in my heart
English Standard Version (ESV)
The Holy Bible, English Standard Version. ESV® Permanent Text Edition® (2016). Copyright © 2001 by Crossway Bibles, a publishing ministry of Good News Publishers.