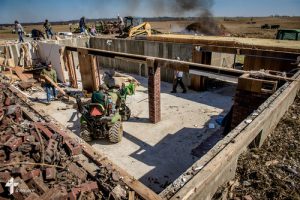 Whether its a hurricane in Haiti or a tornado in Perryville, Missouri, a typhoon in the Philippines or a tsunami in Indonesia, Lutherans respond with mercy. The LCMS Disaster Response Team helps provide material assistance as well as spiritual help to victims of disasters. The Disaster Teams work with local congregations and missionaries who know the area and help coordinate relief efforts. Helping those in need is one way we witness God's mercy. We love because Christ loved us first. The Rev. Michael Meyer, Manager of Disaster Response for the Lutheran Church – Missouri Synod, talks about how the LCMS responds to disasters around the globe. Learn more about Disaster Response at lcms.org/disaster.
Find the latest news:
---
The World Lutheran News Digest is a Broadcast Ministry of the Lutheran Church–Missouri Synod, produced through the facilities of Worldwide KFUO.
---