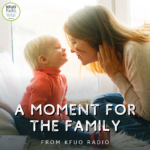 Dr. Mary Manz Simon, practical parenting specialist and bestselling author, joins host Gary Duncan to talk about the issues and challenges faced by families, parents and grandparents today.  
Show Time: Wednesday at 12:00-1:00 p.m. Central Time
Subscribe:  Google Podcasts  //  Apple Podcasts  //  Spotify  //  iHeartRadio  //  Stitcher  //  TuneIn  //  RSS Feed

Are healthy living habits changing during the pandemic?

Are families coming together closer during this pandemic?

How can you help with your child's learning during this pandemic?