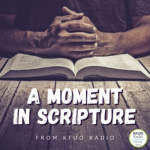 Rev. Matt Clark, pastor of Ascension Lutheran Church in St. Louis, Missouri, joins host Gary Duncan on a journey through the entire Bible from beginning to end. Follow along with us!
Show Time: Friday at 12:00-1:00 p.m. Central Time
Subscribe:  Google Podcasts  //  Apple Podcasts  //  Spotify  //  iHeartRadio  //  Stitcher  //  TuneIn  //  RSS Feed

Pastor Clark and Gary discuss the history of Israel in Numbers 9-21.