A Moment on the Lighter Side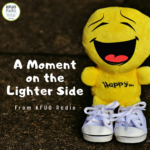 Rev. John Lukomski and "Special Guests" join host Gary Duncan for light-hearted conversation and entertaining exploration of Scripture.
Show Time: Monday at 12:00-1:00 p.m. Central Time
Subscribe:  Google Podcasts  //  Apple Podcasts  //  Spotify  //  iHeartRadio  //  Stitcher  //  TuneIn  //  RSS Feed

Gary talks to St. Peter again this week about how he was called to follow Jesus.

As we continue our discussion with St. Peter we hear about his new plans to start a Greek grammar school.

Gary talks with Simon Peter about how important the Greek grammar is in scripture.