Introduction to Concord Matters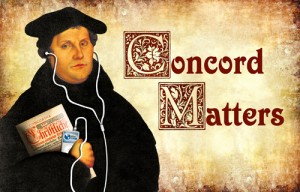 Get to know the varied hosts who will be discussing the Book of Concord!  Pastor Rod Zwonitzer, Pastor Charlie Henrickson, Pastor Joshua Scheer, Pastor Tim Rossow and Pastor Craig Donofrio discuss the "Preface to the Book of Concord" and the historical background to this staple of the Christian faith. This program is a cooperative effort of Worlwide KFUO and the Brotherhood of John The Steadfast.
---
Concord Matters is hosted by Rev. Rod Zwonitzer, Rev. Craig Donofrio, Rev. Charlie Henrickson, Rev. Joshua Scheer, and Rev. Tim Rossow,
Do you have questions about this program? Email the host Rev. Craig Donofrio at Craig.Donofrio@kfuo.org or call in at (314) 996-1540.