Lutheran Witness Preview with Adriane Heins
A preview of the Lutheran Witness October 2014 Issue with Adriane Heins, managing editor and contributors. Dr. Elizabeth Grimpo, Concordia University, NE discusses the value of hymns in our daily life and Rev. Stephen Rosebrock, Mt. Olive Lutheran Church, Milwaukee, WI discusses children and hymns.
---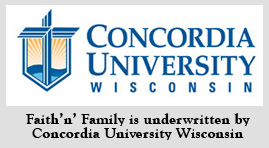 Send in your family questions to Family@kfuo.org or call host Andy Bates at (314) 996-1519 .
---