1. LCMS Youth Ministry
Rev. Mark Kiessling, LCMS Youth Ministry – Office of National Mission, talks about the 2015 National Lutheran Youth Workers Conference and 2016 National Youth Gathering.
---
2. Daily Lectionary
Rev. Terrance Adamson of St. Paul Lutheran Church in Amherst, OH looks at John 9:24-41 "Jesus Heals a Man born Blind".
---
3. Sermonette
Today's sermonette is given by Rev. Terrance Adamson of St. Paul Lutheran Church in Amherst, OH.
---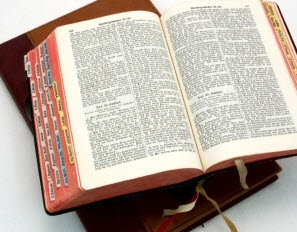 John 9:24-41
24 So for the second time they called the man who had been blind and said to him, "Give glory to God. We know that this man is a sinner." 25 He answered, "Whether he is a sinner I do not know. One thing I do know, that though I was blind, now I see." 26 They said to him, "What did he do to you? How did he open your eyes?" 27 He answered them, "I have told you already, and you would not listen. Why do you want to hear it again? Do you also want to become his disciples?" 28 And they reviled him, saying, "You are his disciple, but we are disciples of Moses. 29 We know that God has spoken to Moses, but as for this man, we do not know where he comes from." 30 The man answered, "Why, this is an amazing thing! You do not know where he comes from, and yet he opened my eyes. 31 We know that God does not listen to sinners, but if anyone is a worshiper of God and does his will, God listens to him. 32 Never since the world began has it been heard that anyone opened the eyes of a man born blind. 33 If this man were not from God, he could do nothing." 34 They answered him, "You were born in utter sin, and would you teach us?" And they cast him out.
35 Jesus heard that they had cast him out, and having found him he said, "Do you believe in the Son of Man?"[a] 36 He answered, "And who is he, sir, that I may believe in him?" 37 Jesus said to him, "You have seen him, and it is he who is speaking to you." 38 He said, "Lord, I believe," and he worshiped him. 39 Jesus said, "For judgment I came into this world, that those who do not see may see, and those who see may become blind." 40 Some of the Pharisees near him heard these things, and said to him, "Are we also blind?" 41 Jesus said to them, "If you were blind, you would have no guilt;[b] but now that you say, 'We see,' your guilt remains.
Footnotes:
John 9:35 Some manuscripts the Son of God
John 9:41 Greek you would not have sin