1. Christian Bioethics
Dr. Robert Weise

Dr. Bob Weise talks about issues related to Christian bioethics.

Bioethics is the study of controversial ethics brought about by advances in biology and medicine. Bioethicists are concerned with the ethical questions that arise in the relationships among life sciences, biotechnology, medicine, politics, law, and philosophy.
About Dr. Weise: Dr. Robert W. Weise is professor of practical theology. Eastern Illinois University, Charleston, Illinois (B.S. in Ed. 1967); University of Illinois, Urbana, Illinois (M.S. 1970, Ph.D. 1973); Concordia Seminary, St. Louis, Missouri (M.Div. 1982); instructor, Kansas State University, Manhattan, Kansas (1972-73); research associate, Wayne State University, Detroit, Michigan (1973-74); assistant professor (1974-78); pastor, Zion, Bunker Hill, Illinois (1982-85); senior pastor, Our Savior's, Springfield, Illinois (1985-92); associate professor, Concordia Seminary, St. Louis, Missouri (1992-2002); professor since 2002; The Lutheran Foundation of St. Louis Chair in Pastoral Ministry and the Life Sciences since 1992. Click HERE to read more about Dr. Weise.
---
2. Daily Lectionary
Rev. Dr. Larry Griffin of Trinity Lutheran Church in Janesville, MN looks at Acts 27:9-26 "The Storm at Sea".
---
3. Matins Sermonette
Today's sermonette is by Rev. Dr. Larry Griffin of Trinity Lutheran Church in Janesville, MN.
---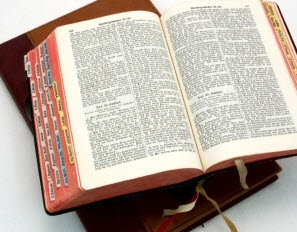 Acts 27:9-26
9 Since much time had passed, and the voyage was now dangerous because even the Fast[a] was already over, Paul advised them, 10 saying, "Sirs, I perceive that the voyage will be with injury and much loss, not only of the cargo and the ship, but also of our lives." 11 But the centurion paid more attention to the pilot and to the owner of the ship than to what Paul said. 12 And because the harbor was not suitable to spend the winter in, the majority decided to put out to sea from there, on the chance that somehow they could reach Phoenix, a harbor of Crete, facing both southwest and northwest, and spend the winter there.
The Storm at Sea
13 Now when the south wind blew gently, supposing that they had obtained their purpose, they weighed anchor and sailed along Crete, close to the shore. 14 But soon a tempestuous wind, called the northeaster, struck down from the land. 15 And when the ship was caught and could not face the wind, we gave way to it and were driven along. 16 Running under the lee of a small island called Cauda,[b] we managed with difficulty to secure the ship's boat. 17 After hoisting it up, they used supports to undergird the ship. Then, fearing that they would run aground on the Syrtis, they lowered the gear,[c] and thus they were driven along. 18 Since we were violently storm-tossed, they began the next day to jettison the cargo. 19 And on the third day they threw the ship's tackle overboard with their own hands. 20 When neither sun nor stars appeared for many days, and no small tempest lay on us, all hope of our being saved was at last abandoned.
21 Since they had been without food for a long time, Paul stood up among them and said, "Men, you should have listened to me and not have set sail from Crete and incurred this injury and loss. 22 Yet now I urge you to take heart, for there will be no loss of life among you, but only of the ship. 23 For this very night there stood before me an angel of the God to whom I belong and whom I worship, 24 and he said, 'Do not be afraid, Paul; you must stand before Caesar. And behold, God has granted you all those who sail with you.' 25 So take heart, men, for I have faith in God that it will be exactly as I have been told. 26 But we must run aground on some island."
Footnotes:
Acts 27:9

That is, the Day of Atonement

Acts 27:16 Some manuscripts Clauda
Acts 27:17

That is, the sea-anchor (or possibly the mainsail)