1. Lutheran Senior Services
Annmarie Wallis and Lutheran Senior Services Director of Outreach Services Carol Melka share the latest LSS news.
Lutheran Senior Services is a faith-based, mission-driven not-for-profit network that specializes in enhancing life for seniors, ages 62-plus. With 21 locations in Missouri and Illinois, LSS offers quality choices and exceptional support for retirement living. Through affordable housing locations, home and community based services, and senior living communities, they provide a person-centered approach to a comprehensive continuum of life choices. Building upon a tradition of excellence for more than 155 years, Lutheran Senior Services is fulfilling its Christian mission of Older Adults Living Life to the Fullest. Find LSS on Facebook!
---
2. Meditation on the Day's Psalm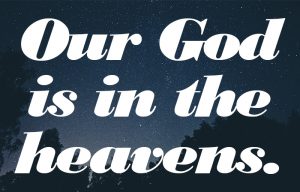 Rev. Jonathan Fisk gives a meditation on the Psalm of the Day, Psalm 115:1-8, 11.
Psalm 115:1-8, 11
To Your Name Give Glory
115 Not to us, O Lord, not to us, but to your name give glory,
    for the sake of your steadfast love and your faithfulness!
2 Why should the nations say,
    "Where is their God?"
3 Our God is in the heavens;
    he does all that he pleases.
4 Their idols are silver and gold,
    the work of human hands.
5 They have mouths, but do not speak;
    eyes, but do not see.
6 They have ears, but do not hear;
    noses, but do not smell.
7 They have hands, but do not feel;
    feet, but do not walk;
    and they do not make a sound in their throat.
8 Those who make them become like them;
    so do all who trust in them.
11 You who fear the Lord, trust in the Lord!
    He is their help and their shield.
---
3. Historically Speaking
Hosted by the Concordia Historical Institute.
Learn more at ConcordiaHistoricalInstitute.org.

---
4. Daily Lectionary
Rev. Bryan Wolfmueller from Hope Lutheran Church in Aurora, Colorado, studies Revelation 9:13-10:11.
---
5. Morning Prayer Sermonette
Today's sermonette is given by Rev. Matthew Wurm from Mt. Calvary Lutheran Church in Brookings, South Dakota
---
Revelation 9:13-10:11
13 Then the sixth angel blew his trumpet, and I heard a voice from the four horns of the golden altar before God, 14 saying to the sixth angel who had the trumpet, "Release the four angels who are bound at the great river Euphrates." 15 So the four angels, who had been prepared for the hour, the day, the month, and the year, were released to kill a third of mankind. 16 The number of mounted troops was twice ten thousand times ten thousand; I heard their number. 17 And this is how I saw the horses in my vision and those who rode them: they wore breastplates the color of fire and of sapphire[a] and of sulfur, and the heads of the horses were like lions' heads, and fire and smoke and sulfur came out of their mouths. 18 By these three plagues a third of mankind was killed, by the fire and smoke and sulfur coming out of their mouths. 19 For the power of the horses is in their mouths and in their tails, for their tails are like serpents with heads, and by means of them they wound.
20 The rest of mankind, who were not killed by these plagues, did not repent of the works of their hands nor give up worshiping demons and idols of gold and silver and bronze and stone and wood, which cannot see or hear or walk, 21 nor did they repent of their murders or their sorceries or their sexual immorality or their thefts.
The Angel and the Little Scroll
10 Then I saw another mighty angel coming down from heaven, wrapped in a cloud, with a rainbow over his head, and his face was like the sun, and his legs like pillars of fire. 2 He had a little scroll open in his hand. And he set his right foot on the sea, and his left foot on the land,3 and called out with a loud voice, like a lion roaring. When he called out, the seven thunders sounded. 4 And when the seven thunders had sounded, I was about to write, but I heard a voice from heaven saying, "Seal up what the seven thunders have said, and do not write it down."5 And the angel whom I saw standing on the sea and on the land raised his right hand to heaven 6 and swore by him who lives forever and ever, who created heaven and what is in it, the earth and what is in it, and the sea and what is in it, that there would be no more delay, 7 but that in the days of the trumpet call to be sounded by the seventh angel, the mystery of God would be fulfilled, just as he announced to his servants the prophets.
8 Then the voice that I had heard from heaven spoke to me again, saying, "Go, take the scroll that is open in the hand of the angel who is standing on the sea and on the land." 9 So I went to the angel and told him to give me the little scroll. And he said to me, "Take and eat it; it will make your stomach bitter, but in your mouth it will be sweet as honey." 10 And I took the little scroll from the hand of the angel and ate it. It was sweet as honey in my mouth, but when I had eaten it my stomach was made bitter. 11 And I was told, "You must again prophesy about many peoples and nations and languages and kings."
Footnotes:
Revelation 9:17 Greek hyacinth
English Standard Version (ESV)The Holy Bible, English Standard Version. ESV® Permanent Text Edition® (2016). Copyright © 2001 by Crossway Bibles, a publishing ministry of Good News Publishers.