1. Meditation on the Day's Psalm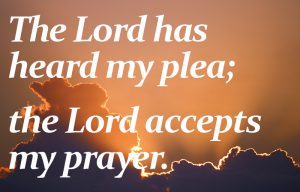 Rev. Jonathan Fisk gives a meditation on the Psalm of the Day, Psalm 6:4-10
Psalm 6:4-10
4 Turn, O Lord, deliver my life;
    save me for the sake of your steadfast love.
5 For in death there is no remembrance of you;
    in Sheol who will give you praise?
6 I am weary with my moaning;
    every night I flood my bed with tears;
    I drench my couch with my weeping.
7 My eye wastes away because of grief;
    it grows weak because of all my foes.
8 Depart from me, all you workers of evil,
    for the Lord has heard the sound of my weeping.
9 The Lord has heard my plea;
    the Lord accepts my prayer.
10 All my enemies shall be ashamed and greatly troubled;
    they shall turn back and be put to shame in a moment.
English Standard Version (ESV)The Holy Bible, English Standard Version. ESV® Permanent Text Edition® (2016). Copyright © 2001 by Crossway Bibles, a publishing ministry of Good News Publishers.
---
2. Meditation on the Daily Reading
Rev. Jonathan Fisk gives a meditation on the Daily Reading from the Treasury of Daily Prayer, written by Martin Luther.