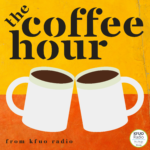 As you grab your morning coffee (and pastry, let's be honest), join hosts Andy Bates and Sarah Gulseth as they bring you stories of the intersection of Lutheran life and a secular world. Catch real-life stories of mercy work of the LCMS and partners, updates from missionaries across the ocean, and practical talk about how to live boldly Lutheran.
Show Time: Monday-Friday at 9:00 a.m. Central Time
Subscribe:  Google Podcasts  //  Apple Podcasts  //  Spotify  //  iHeartRadio  //  Stitcher  //  TuneIn  //  Podbean  //  RSS Feed

Andy and Sarah talk with Dave Anderson, Founder of Shepherd's Canyon Retreat in Wickenburg, Arizona.