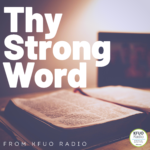 Thy Strong Word reveals the light of our salvation in Christ through study of God's Word, breaking our darkness with His redeeming light. Each weekday, two pastors fix our eyes on Jesus by considering Holy Scripture, verse by verse, in order to be strengthened in the Word and be equipped to faithfully serve in our daily vocations.
Thy Strong Word is hosted by Rev. Dr. Phil Booe, pastor of St. John Lutheran Church of Luverne, MN, and graciously underwritten by the Lutheran Heritage Foundation.
Show Time: Monday-Friday at 11:00 a.m. – 12:00 p.m. Central Time
Subscribe:  Google Podcasts  //  Apple Podcasts  //  Spotify  //  iHeartRadio  //  Stitcher  //  TuneIn  //  Podbean  //  RSS Feed
Romans 15 "The Example of Christ" with guest Rev. Rodney Wise of Glendale Lutheran Church in Glendale, MO.
Romans 14 "Do Not Pass Judgement on One Another" with guest Rev. Andy Jagow of Bethany Lutheran Church in Alexandria, VA.
Romans 12 " A Living Sacrafice" with guest Rev. Mark Hawkinson, Host of Moments of Assurance.
Romans 11 "The Remnant of Israel" with guest Rev. John Lukomski of St. Paul/Trinity Lutheran Churches in So. Illinois.
Romans 9 "God's Sovereign Choice" with guest Rev. Kevin Parviz of the Congregation Chai v'Shalom in St. Louis, MO.
Romans 8 "Life in the Spirit" with guest Rev. Dave Andrus from Lutheran Blind Missions.
Romans 7 "Released from the Law" with guest Rev. Thomas Eckstein of Concordia Lutheran Church in Jamestown, ND.
Romans 6 "Dead to Sin, Alive to God" with guest Rev. Jeff Hemmer of Bethany Lutheran Church in Fairview Heights, IL.