SPRING BREAK: The Importance of Reading.
with guest Dr. Steven Witt discusses the importance of reading for children and what they can read over spring break.


Steven Witt is as an Assistant Professor of Education at Concordia University Wisconsin and the director of the Graduate Reading program. Professor Witt teaches an undergraduate reading course and several graduate level reading classes.  He has published research papers on literacy in the classroom, and has presented at National Teacher Conferences across the nation.
Professor Witt served as a teacher and principal at Lutheran schools in Wisconsin, Minnesota, and Texas and received his B.S. from Dr. Martin Luther College in New Ulm, Minnesota, his M.Ed. in Advanced Literacy from Concordia, Austin, and his M.A. in Curriculum and Instruction from the University of Texas.  He is currently a PhD candidate at Curtin University of Technology in Perth, Australia.
Steven's research interests include literacy, how students construct knowledge, classroom discourse, and the re-visioning and re-conceptualizing of our own teaching identity and our schools. Steven and his wife, Martha, have five children and one grandchild.
Send in your family questions to Family@kfuo.org or call host Liz Hoffman at (314)505-7839 and we'll address them on Friday's show!
---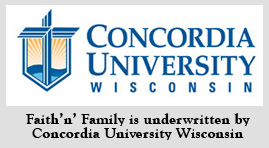 Like what you hear on KFUO Radio? Like us on Facebook Today!