NATIONAL LUTHERAN CHOIR'S 2013 CHRISTMAS FESTIVAL:
LIGHT NO DARK CAN OVERCOME
A treasured Christmas choral event in St Louis' Christ Church Cathedral
MINNEAPOLIS, Minnesota, November 14, 2013 – This December, the National Lutheran Choir will return for its traditional and annual Christmas Festival, led by Artistic Director David Cherwien, at Christ Church Cathedral (1210 Locust Street, St Louis MO 63101). A perennial favorite among Lutherans and non-Lutherans alike, the Christmas Festival combines carols, anthems and poetry to create a space for spiritual reflection.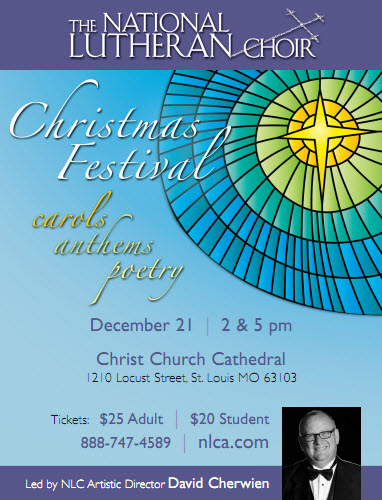 This year's program is entitled, "Light No Dark Can Overcome." David Cherwien, said: "Always beginning with the question, 'Why do we need Jesus today?' our era has many aspects of darkness: war, battles, economic challenge. Christ's incarnation helps us shed light on that which is truly important – and that we need not be afraid of things that frighten us, including darkness itself, which is no darkness at all in Christ!"
Harp, brass and organ are integrated into the program alongside the 66 voices of the National Lutheran Choir. Over the course the concert, song emanates from the choir loft, from singers who surround the audience, and from a formal concert position in the nave. Candles, bells and a processional contribute to the sense of mystery and awe.
Concert dates and times
Saturday, December 21, 2pm & 5pm
Christ Church Cathedral
1210 Locust Street
St. Louis, MO 63103
Tickets: $25-$20
Available by phone: 888-747-4589 or online: NLCA.com
---
The National Lutheran Choir, under the artistic direction of Dr. David Cherwien, seeks to strengthen, renew and preserve the Lutheran heritage of choral music through the highest standards of performance and literature. The 66-voice choir performs literature from the entire spectrum of sacred choral music, with and without instrumental accompaniment. The choir's rich and diverse repertoire ranges from early chant to new compositions and from simple folk anthems to complex orchestral masterworks. The choir was founded in 1986 by Dr. Larry Fleming.
For more information about the NLC or the Christmas Festival, visit NLCA.com.