Seg. 1: Preview of Aug 2014 Lutheran Witness, Adriane Heins; Seg 2: Rev. Anthony Oliphant: Coexist?; Seg 3 Vicar Gerard Bolling, Lutheran Youth Fellowship
Adriane Heins, Managing Editor of the Lutheran Witness provides a preview of the August 2014 issue that focuses on the topics of Law and Gospel. Rev. Anthony Oliphant, associate pastor St. Peter's Lutheran Church of North Plato, Hampshire, IL discusses the trend of COEXIST bumper stickers and the idea behind it. Vicar Gerard Bolling, Bethlehem Lutheran Church, St. Louis, MO discusses the impact of Lutheran Youth Fellowship on his faith, life, and vocation.
---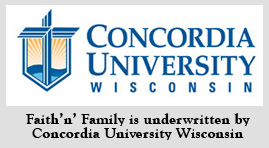 Send in your family questions to Family@kfuo.org or call host Andy Bates at (314) 996-1519 .
---