Morning Segment 1
Rev. Dr. Daniel Gard, President – Concordia University Chicago, talks about their school's 150th Anniversary.
---
Tuesday's Ministry Highlight
Rev. Steve Schave talks about Urban and Inner City Mission.
LCMS Urban & Inner-City Mission (UICM) is working to boost revitalization efforts in city ministries that involve reaching out across cultures with the Gospel. UICM provides resources for churches that wish to provide a spiritual home for people who are searching for hope and healing. UICM offers training to equip leaders in witness, mercy and life together for community engagement that leads to Christ becoming known in neighborhoods. The ultimate goal of UICM is to assist congregations with their efforts to transform the chaos, death and decay that often plagues the cities in which they are located into communities characterized instead by peace, life and renewal.
---
Daily Lectionary
Rev. David McIntyre of Zion Lutheran Church in Clinton, LA looks at Colossians 2:8-23 "Let No One Disqualify You". (Scroll down to read today's text.)
---
Matins Sermonette
Today's sermonette is given by Rev. David McIntyre of Zion Lutheran Church in Clinton, LA.
---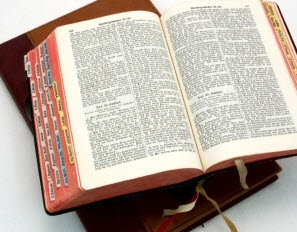 Colossians 2:8-23
8 See to it that no one takes you captive by philosophy and empty deceit, according to human tradition, according to the elemental spirits[a] of the world, and not according to Christ. 9 For in him the whole fullness of deity dwells bodily, 10 and you have been filled in him, who is the head of all rule and authority. 11 In him also you were circumcised with a circumcision made without hands, by putting off the body of the flesh, by the circumcision of Christ, 12 having been buried with him in baptism, in which you were also raised with him through faith in the powerful working of God, who raised him from the dead. 13 And you, who were dead in your trespasses and the uncircumcision of your flesh, God made alive together with him, having forgiven us all our trespasses, 14 by canceling the record of debt that stood against us with its legal demands. This he set aside, nailing it to the cross. 15 He disarmed the rulers and authorities[b] and put them to open shame, by triumphing over them in him.[c]
Let No One Disqualify You
16 Therefore let no one pass judgment on you in questions of food and drink, or with regard to a festival or a new moon or a Sabbath. 17 These are a shadow of the things to come, but the substance belongs to Christ. 18 Let no one disqualify you, insisting on asceticism and worship of angels, going on in detail about visions,[d] puffed up without reason by his sensuous mind, 19 and not holding fast to the Head, from whom the whole body, nourished and knit together through its joints and ligaments, grows with a growth that is from God.
20 If with Christ you died to the elemental spirits of the world, why, as if you were still alive in the world, do you submit to regulations— 21 "Do not handle, Do not taste, Do not touch" 22 (referring to things that all perish as they are used)—according to human precepts and teachings? 23 These have indeed an appearance of wisdom in promoting self-made religion and asceticism and severity to the body, but they are of no value in stopping the indulgence of the flesh.
Footnotes:
Colossians 2:8 Or elementary principles; also verse 20
Colossians 2:15

Probably demonic rulers and authorities

Colossians 2:15 Or in it (that is, the cross)
Colossians 2:18 Or about the things he has seen
---