Lutheran Camps & Retreats offer year-round programs
Lutheran camp and retreat center leaders discuss opportunities and programs for youth and families in 2015:
Tim Jank, Executive Director, Camp Lutherhaven, Albion, IN www.lutherhaven.org
Matt Kohler, Sr. Counselor, Camp LuWiSoMo, Wild Rose, WI www.LuWiSoMo.org
Keith Lund, Executive Director, LOMT Camp Lone Star, LaGrange, TX www.lomt.com
Rev. Steven Geske, Executive Director, Walcamp Outdoor Ministries and Retreat Center, Kingston, IL www.walcamp.org
Visit National Lutheran Outdoors Ministry Association (www.nloma.org) for a directory of Lutheran camps around the U.S.
---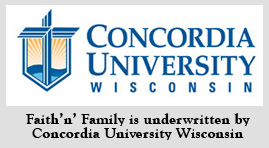 Send in your family questions to Family@kfuo.org or call host Andy Bates at (314) 996-1519 .
---