1. Interview with Liturgical Artist Kelly Schumacher
Kelly Schumacher, a Liturgical Artist, talks about her artwork, especially her most recent commissioned art titled "Whom have I in heaven but thee? and there is nothing upon earth that I desire beside thee." Psalm 73:25 KJV. It is a seven foot tall oil painting depicting the Bride of Christ at the foot of the cross.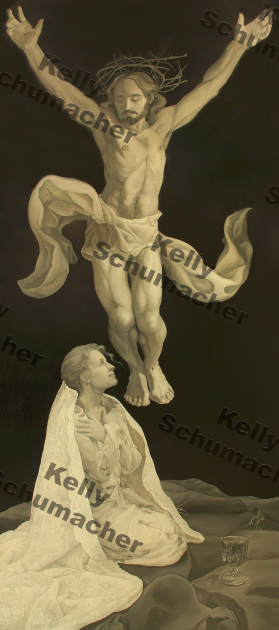 Kelly describes her inspiration for this piece:
Mary Magdalene clinging to the foot of the cross was an image that always intrigued me.  In this version, however, I replaced the image of Mary with the Bride of Christ.  She weeps at the foot of the cross, with sorrow for her sin, but with joy for her Savior who bore them.  The hymn, "The Church's One Foundation" LSB 289 is a great source of inspiration for the creation of this piece. In this painting, we see the beautiful love story that exists between God and humanity. Her sin has separated her from her Lord, but He pursues her.  Jesus Christ woos His bride with His word and pays for her debt with His life. Out of His side spurts out blood and water.   The water transforms into the bride's veil and gown while the blood is collected into a communion cup.  Jesus is paying the bride's price to redeem us from sin and death.  In the Garden of Eden, Eve is formed out of Adam's rib.  In the same way we are the bride formed from Christ's side.  Christ and His Church gaze at one another, face to face.  We see God as He truly is, as our suffering servant.
This beautiful art print will be offered to donors who become a Day Sponsor or who renew their Day Sponsorship to KFUO during our 90 Days of Celebration (ending on January 31, 2015). Please contact Mary Schmidt at (314) 996-1518.

See more of Kelly Schumacher's work at her website www.kelly-schumacher.com.
---
2. Daily Lectionary
Rev. Edward Filter of St. Andrew Lutheran Church in Portland, MI looks at Revelation 4:1-11 "The Throne in Heaven".
---
3. Matins Sermonette
Today's sermonette is given by Rev. Edward Filter of St. Andrew Lutheran Church in Portland, MI.
---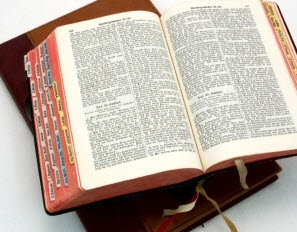 Revelation 4:1-11
The Throne in Heaven
4 After this I looked, and behold, a door standing open in heaven! And the first voice, which I had heard speaking to me like a trumpet, said, "Come up here, and I will show you what must take place after this." 2 At once I was in the Spirit, and behold, a throne stood in heaven, with one seated on the throne. 3 And he who sat there had the appearance of jasper and carnelian, and around the throne was a rainbow that had the appearance of an emerald. 4 Around the throne were twenty-four thrones, and seated on the thrones were twenty-four elders, clothed in white garments, with golden crowns on their heads. 5 From the throne came flashes of lightning, and rumblings[a] and peals of thunder, and before the throne were burning seven torches of fire, which are the seven spirits of God, 6 and before the throne there was as it were a sea of glass, like crystal.
And around the throne, on each side of the throne, are four living creatures, full of eyes in front and behind: 7 the first living creature like a lion, the second living creature like an ox, the third living creature with the face of a man, and the fourth living creature like an eagle in flight. 8 And the four living creatures, each of them with six wings, are full of eyes all around and within, and day and night they never cease to say,
"Holy, holy, holy, is the Lord God Almighty,
    who was and is and is to come!"
9 And whenever the living creatures give glory and honor and thanks to him who is seated on the throne, who lives forever and ever, 10 the twenty-four elders fall down before him who is seated on the throne and worship him who lives forever and ever. They cast their crowns before the throne, saying,
11 "Worthy are you, our Lord and God,
    to receive glory and honor and power,
for you created all things,
    and by your will they existed and were created."
Footnotes:
Revelation 4:5 Or voices, or sounds
---