1. Lutheran Senior Services

Jane Wilke at Lutheran Senior Services discusses how we need to care for our Senior Citizens.
Lutheran Senior Services is a faith-based, mission-driven not-for-profit network that specializes in enhancing life for seniors, ages 62-plus. With 19 locations in Missouri and Illinois, we offer quality choices and exceptional support for retirement living. Through affordable housing sites, in-home services and senior living communities, they provide a person-centered approach to a comprehensive continuum of life choices. Building upon a tradition of excellence for more than 150 years, Lutheran Senior Services is fulfilling its Christian mission of Older Adults Living Life to the Fullest.
---
2. Staying Healthy in the New Year

Laura Morton, Nutrition Educator – St. Louis District Dairy Council, talks about staying healthy in the New Year.
The New Year is the perfect time to make improvements in your family's eating habits and physical activity. A few simple changes can make a major impact on health. Make a commitment to shape up eating habits by making more healthful food choices, including consuming three daily servings of dairy. Milk, cheese and yogurt together provide a powerful nutrient package of calcium, vitamin D and seven other essential nutrients that help build stronger bones and healthy bodies. Pledge to get fit and encourage your family to become more active.
Keep yourself and your family on track for healthy eating all year long with these tips from St. Louis District Dairy Council:
Balance what you eat by including foods from all the food groups every day – Dairy, Protein, Vegetable, Fruit and Grain.
Fuel up with breakfast daily. Make a delicious fruit and yogurt smoothie or creamy oatmeal made with low fat milk.
Snacks can add key nutrients to your diet and sustain your energy levels between meals. Try yogurt with fruit, whole grain crackers with low-fat cheese or a small handful of nuts.
Size up your portions. Use measuring cups to help learn the right serving sizes. Use smaller plates, bowls and glasses to help keep portions in control.
Enjoy family mealtime and make it a priority. Research shows that family meals promote healthier eating.
Get active by making exercise a part or your daily routine. Physical activity helps your body control stress and weight. Adults should aim for 30 minutes of daily activity; children and teens should get 60 minutes each day.
Choose healthy foods when eating out. Plan ahead when eating out and choose foods that are grilled, baked, broiled or steamed for lower calorie options. Pick healthy sides including salads, vegetables, fruits and dairy.
Don't skip the milk. Milk is the number one source or calcium, vitamin D and potassium in the diet. Make sure you get three serving of dairy daily.
For more information on the health benefits of dairy, visit www.stldairycouncil.org or contact Laura Morton with St. Louis District Dairy Council: call (314)-835-9668, or e-mail lmorton@stldairycouncil.org. For more delicious and nutritious recipes, check us out on Facebook at STLDairyCouncil.
---
3. Daily Lectionary
Rev. Tom Wenig of Redeemer Lutheran Church in Evansville, IN looks at Romans 1:18-32 "God's Wrath on Unrighteousness".
---
4. Matins Sermonette
Today's sermonette is given by Rev. Tom Wenig of Redeemer Lutheran Church in Evansville, IN.
---
Romans 1:18-32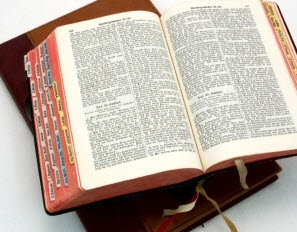 God's Wrath on Unrighteousness
18 For the wrath of God is revealed from heaven against all ungodliness and unrighteousness of men, who by their unrighteousness suppress the truth. 19 For what can be known about God is plain to them, because God has shown it to them. 20 For his invisible attributes, namely, his eternal power and divine nature, have been clearly perceived, ever since the creation of the world,[a] in the things that have been made. So they are without excuse. 21 For although they knew God, they did not honor him as God or give thanks to him, but they became futile in their thinking, and their foolish hearts were darkened. 22 Claiming to be wise, they became fools, 23 and exchanged the glory of the immortal God for images resembling mortal man and birds and animals and creeping things.
24 Therefore God gave them up in the lusts of their hearts to impurity, to the dishonoring of their bodies among themselves, 25 because they exchanged the truth about God for a lie and worshiped and served the creature rather than the Creator, who is blessed forever! Amen.
26 For this reason God gave them up to dishonorable passions. For their women exchanged natural relations for those that are contrary to nature; 27 and the men likewise gave up natural relations with women and were consumed with passion for one another, men committing shameless acts with men and receiving in themselves the due penalty for their error.
28 And since they did not see fit to acknowledge God, God gave them up to a debased mind to do what ought not to be done. 29 They were filled with all manner of unrighteousness, evil, covetousness, malice. They are full of envy, murder, strife, deceit, maliciousness. They are gossips, 30 slanderers, haters of God, insolent, haughty, boastful, inventors of evil, disobedient to parents, 31 foolish, faithless, heartless, ruthless. 32 Though they know God's righteous decree that those who practice such things deserve to die, they not only do them but give approval to those who practice them.
Footnotes:
Romans 1:20 Or clearly perceived from the creation of the world