Missionary Family Stories: The Federwitz Family , 2nd Generation Missionaries
Paul and Ali Federwitz, along with their children Hannah, Levi, and Eden, talk about their service in Ghana while working for the Lutheran Bible Translators, (Tamale, Ghana).
Children: Hannah, Levi, and Eden
The Federwitz family is based in the northern region in the city of Tamale. Paul serves as an Information Technology Consultant and Trainer. The majority of his time is spent working at the Ghana Institute of Linguistics, Literacy, and Bible Translation (GILLBT) as the IT manager. He helps national translators and staff use computers for their work, which dramatically reduces the amount of time that it takes to complete a translation. He also provides computer assistance to LBT missionaries serving in Ghana and Liberia. Learn more about the Federwitz Family and their Mission HERE.
---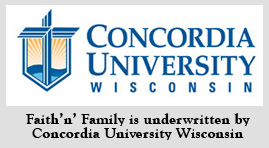 Send in your family questions to Family@kfuo.org or call host Andy Bates at (314) 996-1519 .
---