March for Life and LCMS Life Conference
Guests reported live from the LCMS Life Conference and the 2015 March for Life in Washington DC. Guests included:
Ed Szeto, Coordinator, LCMS Life Ministries
Tracy Quaethem, Coordinator, LCMS Life Ministries
Rev. Steven Cholak, Asst. Pastor, Messiah Lutheran Church, Keller, TX
Rev. Michael Salemink, Asst. Pastor, St. James Lutheran Church, Lafayette, IN
Rev. Mark Wood, Director, Witness & Outreach, LCMS
Rev. Craig Donofrio, Sr. Announcer/Programmer, Worldwide KFUO
Rev. Michael Meyer, Manager, LCMS Disaster Response
Rev. Dr. Matthew Harrison, President, LCMS
Rev. Marcus Zill, Director, LCMSU & LCMS Campus Ministry
Deaconess Pam Nielsen, Associate Exec. Director, Communications Services, LCMS
---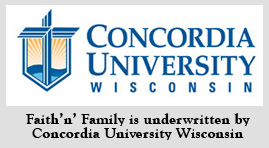 Send in your family questions to Family@kfuo.org or call host Andy Bates at (314) 996-1519 .
---