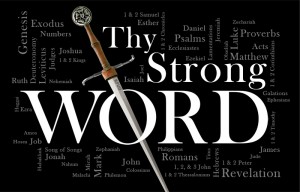 Thy Strong Word
Hosted by Rev. Will Weedon.

With guest Rev. Tim Ostermeyer of Hope Lutheran Church in St. Ann, MO.
Matthew 8
Jesus Cleanses a Leper
8 When he came down from the mountain, great crowds followed him. 2 And behold, a leper[a] came to him and knelt before him, saying, "Lord, if you will, you can make me clean." 3 And Jesus[b] stretched out his hand and touched him, saying, "I will; be clean." And immediately his leprosy was cleansed. 4 And Jesus said to him, "See that you say nothing to anyone, but go, show yourself to the priest and offer the gift that Moses commanded, for a proof to them."
The Faith of a Centurion
5 When he had entered Capernaum, a centurion came forward to him, appealing to him, 6 "Lord, my servant is lying paralyzed at home, suffering terribly." 7 And he said to him, "I will come and heal him." 8 But the centurion replied, "Lord, I am not worthy to have you come under my roof, but only say the word, and my servant will be healed. 9 For I too am a man under authority, with soldiers under me. And I say to one, 'Go,' and he goes, and to another, 'Come,' and he comes, and to my servant,[c] 'Do this,' and he does it." 10 When Jesus heard this, he marveled and said to those who followed him, "Truly, I tell you, with no one in Israel[d] have I found such faith. 11 I tell you, many will come from east and west and recline at table with Abraham, Isaac, and Jacob in the kingdom of heaven, 12 while the sons of the kingdom will be thrown into the outer darkness. In that place there will be weeping and gnashing of teeth." 13 And to the centurion Jesus said, "Go; let it be done for you as you have believed." And the servant was healed at that very moment.
Jesus Heals Many
14 And when Jesus entered Peter's house, he saw his mother-in-law lying sick with a fever. 15 He touched her hand, and the fever left her, and she rose and began to serve him. 16 That evening they brought to him many who were oppressed by demons, and he cast out the spirits with a word and healed all who were sick. 17 This was to fulfill what was spoken by the prophet Isaiah: "He took our illnesses and bore our diseases."
The Cost of Following Jesus
18 Now when Jesus saw a crowd around him, he gave orders to go over to the other side. 19 And a scribe came up and said to him, "Teacher, I will follow you wherever you go." 20 And Jesus said to him, "Foxes have holes, and birds of the air have nests, but the Son of Man has nowhere to lay his head." 21 Another of the disciples said to him, "Lord, let me first go and bury my father." 22 And Jesus said to him, "Follow me, and leave the dead to bury their own dead."
Jesus Calms a Storm
23 And when he got into the boat, his disciples followed him. 24 And behold, there arose a great storm on the sea, so that the boat was being swamped by the waves; but he was asleep. 25 And they went and woke him, saying, "Save us, Lord; we are perishing." 26 And he said to them, "Why are you afraid, O you of little faith?" Then he rose and rebuked the winds and the sea, and there was a great calm. 27 And the men marveled, saying, "What sort of man is this, that even winds and sea obey him?"
Jesus Heals Two Men with Demons
28 And when he came to the other side, to the country of the Gadarenes,[e] two demon-possessed[f] men met him, coming out of the tombs, so fierce that no one could pass that way. 29 And behold, they cried out, "What have you to do with us, O Son of God? Have you come here to torment us before the time?" 30 Now a herd of many pigs was feeding at some distance from them. 31 And the demons begged him, saying, "If you cast us out, send us away into the herd of pigs." 32 And he said to them, "Go." So they came out and went into the pigs, and behold, the whole herd rushed down the steep bank into the sea and drowned in the waters. 33 The herdsmen fled, and going into the city they told everything, especially what had happened to the demon-possessed men. 34 And behold, all the city came out to meet Jesus, and when they saw him, they begged him to leave their region.
Footnotes:
Matthew 8:2 Leprosy was a term for several skin diseases; see Leviticus 13
Matthew 8:3 Greek he
Matthew 8:9 Greek bondservant
Matthew 8:10 Some manuscripts not even in Israel
Matthew 8:28 Some manuscripts Gergesenes; some Gerasenes
Matthew 8:28 Greek daimonizomai; also verse 33; elsewhere rendered oppressed by demons
---
About the Host

The Rev. William C. Weedon accepted the call to serve as The Lutheran Church—Missouri Synod's (LCMS) Director of Worship and International Center Chaplain and was installed on May 7, 2012. In his director of Worship role, Weedon is responsible for proposing and creating programs that carry out the purposes and aims of the LCMS in matters of worship. As chaplain at the LCMS' International Center in St. Louis, he works with the president's office in planning and supervising all chapel services held there, as well as offering informal chaplaincy and counseling services to employees as requested.
A 1982 graduate of Concordia College—New York, in Bronxville, N.Y., Weedon earned Master of Divinity and Master of Sacred Theology degrees from Concordia Seminary, St. Louis, in 1986 and 1998, respectively. Prior to joining the staff at the LCMS International Center, Weedon served as pastor of St. Paul Lutheran Church, Hamel, Ill., since 1992. From 1986 until 1992, he was pastor of Redeemer Lutheran Church, Burlington, N.C.
On August 4, 2014, Rev. Will Weedon joined the Worldwide KFUO Radio team as the program host for Thy Strong Word, a bible study series that examines each book and chapter of the Bible in depth.
---