1. Lutheran Senior Services

Jane Wilke at Lutheran Senior Services discusses how we need to care for our Senior Citizens.
Lutheran Senior Services is a faith-based, mission-driven not-for-profit network that specializes in enhancing life for seniors, ages 62-plus. With 19 locations in Missouri and Illinois, we offer quality choices and exceptional support for retirement living. Through affordable housing sites, in-home services and senior living communities, they provide a person-centered approach to a comprehensive continuum of life choices. Building upon a tradition of excellence for more than 150 years, Lutheran Senior Services is fulfilling its Christian mission of Older Adults Living Life to the Fullest.
---
2. "Cooking for One"

Laura Morton, a Nutrition Educator from the St. Louis District Dairy Council, talks about "Cooking for One".
In the kitchen, one can feel like the loneliest number. The fear of leftover fatigue or doing the math to modify recipes for a single serving can drive anyone to order out or turn to processed convenience food rather than cooking. After all, spending time making a dish that requires pans and utensils isn't worth it when you're dining alone, right? Wrong! Cooking heart healthy meals for one or two is easier than you might think.
Not only can cooking for yourself provide some much-needed alone time, but a healthy, home-cooked dinner (or breakfast, or lunch) can help you feel accomplished and energized for whatever life throws your way. The best part is that cooking for one is a lot quicker (and easier) than cooking for a crowd. Dairy is one of the easiest and most nutrient packed foods to incorporate into meals for one or two. Always have milk, yogurt, and cheese on hand to whip up delicious, heart healthy meals without the leftovers.
February isn't only a time for candy hearts; it's also National Heart Health Month. Take extra special care of your heart health this month by choosing to follow the DASH (Dietary Approaches to Stopping Hypertension) diet, named the best and healthiest diet in 2014. The DASH diet is low in sodium and is rich in fruits and vegetables, low-fat or fat-free dairy, and whole grains. Here are a few DASH approved meal ideas for one or two.
Quick and Easy One Serving Meal Ideas:
Burrito Bowls (rice, beans, sautéed veggies, topped with shredded cheese and a dollop of plain yogurt)
Egg White and Cheddar Panini
Turkey, Hummus, and Spinach Wraps
Single Serve Pita Pizzas
Yogurt/Granola/Fruit Parfaits
Savory Oats (oatmeal cooked with milk, cheddar cheese, topped with a soft cooked egg)
Or try these tasty heart healthy recipes:
Single Serving Frittata
1 large shallot, thinly sliced
1 small zucchini, thinly sliced
4 egg whites, beaten
¼ cup milk
¼ cup shredded Monterey Jack (or any mild white cheese)
In a small non-stick skillet, sauté shallot in 1 tablespoon of olive oil over medium-low heat. When tender, add the zucchini and sauté until cooked through and beginning to brown, about 4 minutes. Spread zucchini and shallots evenly across the base of the pan. Season egg whites with salt and pepper and pour over veggies.
Cook until the bottom of the frittata has set and the top is nearly cooked through, about 3-5 minutes. Using a spatula, loosen the bottom of the frittata. Peel back one side, and tilt the pan so that the remaining uncooked egg slides to the open surface area. Using a second spatula, gently flip the frittata. Sprinkle the cheese over the top, and cover the pan with a plate to lock in the heat. Cook for another minute or so, until the cheese is melted and the underside of the frittata has set. Slide the frittata onto a round plate and serve immediately.
Servings: 1, Calories: 150, Fat: 3g, Protein: 24g, Calcium: 25% DV
Sweet Heart Smoothie
1/2 cup frozen berries
1/2 frozen banana
1 orange, peeled and segmented
1 cup spinach (optional)
6 oz Vanilla Greek Yogurt
½ cup milk
Combine all ingredients in a blender and pulse until smooth, adding additional milk if needed.
Servings: 1, Calories: 231, Fat: 3.5g, Protein: 18g, Calcium: 35% DV
Radio questions:
What are some tips when grocery shopping for one or two people? The smoothie, by design, is a great one serving meal or snack. Buy single serve containers of yogurt and frozen berries to keep on-hand for quick prep. Keep salad ingredients on hand (greens and fresh veggies) and get creative with the toppings (toasted nuts, dried fruit, canned beans, tuna, and don't forget the cheese!). Pasta is a great base for creating a meal and can be quickly converted into any serving size. Focus on staples like cheese, milk, bread, pasta, veggies, etc. that can be used in a myriad of different ways.
What's the best way to keep food from spoiling before using it? Plan your meals ahead of time. Buy perishables such as yogurt and milk in smaller containers. Split the loaf of bread and freeze half. Bonus tip: peanut butter spreads easily on frozen bread and will thaw by lunchtime.
What are some tips on getting enough variety when cooking for one or two? Plan a trip to the grocery store once a week to pick up yogurt, milk, fresh fruits and vegetables to add to your pantry staples. Aim to try a new variety of yogurt or an unfamiliar fruit or vegetable with each trip.
What are some risk factors for heart disease? Diets that are high in fat, sugar, and cholesterol, which often include processed, pre-packaged foods. Lifestyle factors include lack of physical activity, being overweight/obese, smoking, and stress.
What can be done to protect heart health? Following a healthy and balanced diet, maintaining a healthy weight, finding ways to cope with stress and getting physical activity every day.
What is the DASH (Dietary Approaches to Stopping Hypertension) diet?
low in saturated fat, cholesterol, total fat
rich in potassium, magnesium, calcium, protein, fiber
emphasizes fruits, vegetables, and fat-free or low-fat milk and milk products
includes whole grains, fish, poultry, and nuts
reduced in lean red meat, sweets, added sugar, and sugar-containing beverages
How do dairy foods protect heart health? Calcium from low fat dairy is associated with decreased risk of high blood pressure and Type II Diabetes. Several studies have shown that calcium from dairy products may play a role in maintaining a healthy body weight, an important factor in heart disease prevention.
---
3. Daily Lectionary
Rev. James Driskell of First St. Johns Evangelical Lutheran Church in York, PA looks at John 1:19-34 "The Testimony of John the Baptist".
---
4. Matins Sermonette
Today's sermonette is given by Rev. James Driskell of First St. Johns Evangelical Lutheran Church in York, PA.
---
John 1:19-34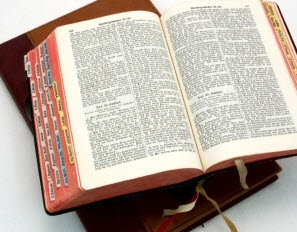 The Testimony of John the Baptist
19 And this is the testimony of John, when the Jews sent priests and Levites from Jerusalem to ask him, "Who are you?" 20 He confessed, and did not deny, but confessed, "I am not the Christ." 21 And they asked him, "What then? Are you Elijah?" He said, "I am not." "Are you the Prophet?" And he answered, "No." 22 So they said to him, "Who are you? We need to give an answer to those who sent us. What do you say about yourself?" 23 He said, "I am the voice of one crying out in the wilderness, 'Make straight[a] the way of the Lord,' as the prophet Isaiah said."
24 (Now they had been sent from the Pharisees.) 25 They asked him, "Then why are you baptizing, if you are neither the Christ, nor Elijah, nor the Prophet?" 26 John answered them, "I baptize with water, but among you stands one you do not know, 27 even he who comes after me, the strap of whose sandal I am not worthy to untie." 28 These things took place in Bethany across the Jordan, where John was baptizing.
Behold, the Lamb of God
29 The next day he saw Jesus coming toward him, and said, "Behold, the Lamb of God, who takes away the sin of the world! 30 This is he of whom I said, 'After me comes a man who ranks before me, because he was before me.' 31 I myself did not know him, but for this purpose I came baptizing with water, that he might be revealed to Israel." 32 And John bore witness: "I saw the Spirit descend from heaven like a dove, and it remained on him. 33 I myself did not know him, but he who sent me to baptize with water said to me, 'He on whom you see the Spirit descend and remain, this is he who baptizes with the Holy Spirit.' 34 And I have seen and have borne witness that this is the Son of God."
Footnotes:
John 1:23 Or crying out, 'In the wilderness make straight