1. Lutheran Senior Services

Jane Wilke at Lutheran Senior Services discusses how we need to care for our Senior Citizens.
Lutheran Senior Services is a faith-based, mission-driven not-for-profit network that specializes in enhancing life for seniors, ages 62-plus. With 19 locations in Missouri and Illinois, we offer quality choices and exceptional support for retirement living. Through affordable housing sites, in-home services and senior living communities, they provide a person-centered approach to a comprehensive continuum of life choices. Building upon a tradition of excellence for more than 150 years, Lutheran Senior Services is fulfilling its Christian mission of Older Adults Living Life to the Fullest.
---
2. The Bible in Braille

Rev. Dennis Stueve, President, Lutheran Braille Workers on new project of producing English Standard Version of Bible in Braille.
---
3. Daily Lectionary
Rev. Micah Gaunt of Bethlehem Lutheran Church in Ravenna, NE and Zion Lutheran Church in North Shelton, NE looks at John 4:27-45.
---
4. Matins Sermonette
Today's sermonette is given by Rev. Micah Gaunt of Bethlehem Lutheran Church in Ravenna, NE and Zion Lutheran Church in North Shelton, NE.
---
John 4:27-45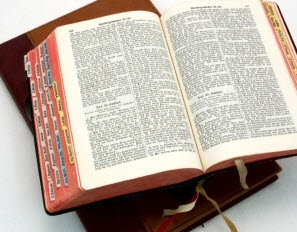 27 Just then his disciples came back. They marveled that he was talking with a woman, but no one said, "What do you seek?" or, "Why are you talking with her?" 28 So the woman left her water jar and went away into town and said to the people, 29 "Come, see a man who told me all that I ever did. Can this be the Christ?" 30 They went out of the town and were coming to him.
31 Meanwhile the disciples were urging him, saying, "Rabbi, eat." 32 But he said to them, "I have food to eat that you do not know about." 33 So the disciples said to one another, "Has anyone brought him something to eat?" 34 Jesus said to them, "My food is to do the will of him who sent me and to accomplish his work. 35 Do you not say, 'There are yet four months, then comes the harvest'? Look, I tell you, lift up your eyes, and see that the fields are white for harvest. 36 Already the one who reaps is receiving wages and gathering fruit for eternal life, so that sower and reaper may rejoice together. 37 For here the saying holds true, 'One sows and another reaps.' 38 I sent you to reap that for which you did not labor. Others have labored, and you have entered into their labor."
39 Many Samaritans from that town believed in him because of the woman's testimony, "He told me all that I ever did." 40 So when the Samaritans came to him, they asked him to stay with them, and he stayed there two days. 41 And many more believed because of his word. 42 They said to the woman, "It is no longer because of what you said that we believe, for we have heard for ourselves, and we know that this is indeed the Savior of the world."
43 After the two days he departed for Galilee. 44 (For Jesus himself had testified that a prophet has no honor in his own hometown.) 45 So when he came to Galilee, the Galileans welcomed him, having seen all that he had done in Jerusalem at the feast. For they too had gone to the feast.