1. Lutheran Senior Services

Jane Wilke at Lutheran Senior Services discusses how we need to care for our Senior Citizens.
Lutheran Senior Services is a faith-based, mission-driven not-for-profit network that specializes in enhancing life for seniors, ages 62-plus. With 19 locations in Missouri and Illinois, we offer quality choices and exceptional support for retirement living. Through affordable housing sites, in-home services and senior living communities, they provide a person-centered approach to a comprehensive continuum of life choices. Building upon a tradition of excellence for more than 150 years, Lutheran Senior Services is fulfilling its Christian mission of Older Adults Living Life to the Fullest.
---
2. Christian Bioethics
Dr. Robert Weise

Dr. Bob Weise talks about issues related to Christian bioethics.

Bioethics is the study of controversial ethics brought about by advances in biology and medicine. Bioethicists are concerned with the ethical questions that arise in the relationships among life sciences, biotechnology, medicine, politics, law, and philosophy.
About Dr. Weise: Dr. Robert W. Weise is professor of practical theology. Eastern Illinois University, Charleston, Illinois (B.S. in Ed. 1967); University of Illinois, Urbana, Illinois (M.S. 1970, Ph.D. 1973); Concordia Seminary, St. Louis, Missouri (M.Div. 1982); instructor, Kansas State University, Manhattan, Kansas (1972-73); research associate, Wayne State University, Detroit, Michigan (1973-74); assistant professor (1974-78); pastor, Zion, Bunker Hill, Illinois (1982-85); senior pastor, Our Savior's, Springfield, Illinois (1985-92); associate professor, Concordia Seminary, St. Louis, Missouri (1992-2002); professor since 2002; The Lutheran Foundation of St. Louis Chair in Pastoral Ministry and the Life Sciences since 1992. Click HERE to read more about Dr. Weise.
---
3. Daily Lectionary
Rev. Donald Andrix of Emanuel Lutheran Church in Hamburg, MN looks at John 13:21-38 "A New Commandment".
---
4. Matins Sermonette
Today's sermonette is given by Rev. Donald Andrix of Emanuel Lutheran Church in Hamburg, MN.
---
John 13:21-38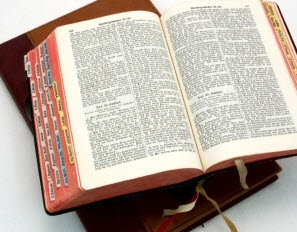 One of You Will Betray Me
21 After saying these things, Jesus was troubled in his spirit, and testified, "Truly, truly, I say to you, one of you will betray me." 22 The disciples looked at one another, uncertain of whom he spoke. 23 One of his disciples, whom Jesus loved, was reclining at table at Jesus' side,[a] 24 so Simon Peter motioned to him to ask Jesus[b] of whom he was speaking. 25 So that disciple, leaning back against Jesus, said to him, "Lord, who is it?" 26 Jesus answered, "It is he to whom I will give this morsel of bread when I have dipped it." So when he had dipped the morsel, he gave it to Judas, the son of Simon Iscariot. 27 Then after he had taken the morsel, Satan entered into him. Jesus said to him, "What you are going to do, do quickly." 28 Now no one at the table knew why he said this to him. 29 Some thought that, because Judas had the moneybag, Jesus was telling him, "Buy what we need for the feast," or that he should give something to the poor. 30 So, after receiving the morsel of bread, he immediately went out. And it was night.
A New Commandment
31 When he had gone out, Jesus said, "Now is the Son of Man glorified, and God is glorified in him. 32 If God is glorified in him, God will also glorify him in himself, and glorify him at once. 33 Little children, yet a little while I am with you. You will seek me, and just as I said to the Jews, so now I also say to you, 'Where I am going you cannot come.' 34 A new commandment I give to you, that you love one another: just as I have loved you, you also are to love one another. 35 By this all people will know that you are my disciples, if you have love for one another."
Jesus Foretells Peter's Denial
36 Simon Peter said to him, "Lord, where are you going?" Jesus answered him, "Where I am going you cannot follow me now, but you will follow afterward." 37 Peter said to him, "Lord, why can I not follow you now? I will lay down my life for you." 38 Jesus answered, "Will you lay down your life for me? Truly, truly, I say to you, the rooster will not crow till you have denied me three times.
Footnotes:
John 13:23 Greek in the bosom of Jesus
John 13:24 Greek lacks Jesus