1. Lutheran Senior Services

Jane Wilke at Lutheran Senior Services discusses how we need to care for our Senior Citizens.
Lutheran Senior Services is a faith-based, mission-driven not-for-profit network that specializes in enhancing life for seniors, ages 62-plus. With 19 locations in Missouri and Illinois, we offer quality choices and exceptional support for retirement living. Through affordable housing sites, in-home services and senior living communities, they provide a person-centered approach to a comprehensive continuum of life choices. Building upon a tradition of excellence for more than 150 years, Lutheran Senior Services is fulfilling its Christian mission of Older Adults Living Life to the Fullest.
---
2. Christian Bioethics
Dr. Robert Weise

Dr. Bob Weise talks about issues related to Christian bioethics.

Bioethics is the study of controversial ethics brought about by advances in biology and medicine. Bioethicists are concerned with the ethical questions that arise in the relationships among life sciences, biotechnology, medicine, politics, law, and philosophy.
About Dr. Weise: Dr. Robert W. Weise is professor of practical theology. Eastern Illinois University, Charleston, Illinois (B.S. in Ed. 1967); University of Illinois, Urbana, Illinois (M.S. 1970, Ph.D. 1973); Concordia Seminary, St. Louis, Missouri (M.Div. 1982); instructor, Kansas State University, Manhattan, Kansas (1972-73); research associate, Wayne State University, Detroit, Michigan (1973-74); assistant professor (1974-78); pastor, Zion, Bunker Hill, Illinois (1982-85); senior pastor, Our Savior's, Springfield, Illinois (1985-92); associate professor, Concordia Seminary, St. Louis, Missouri (1992-2002); professor since 2002; The Lutheran Foundation of St. Louis Chair in Pastoral Ministry and the Life Sciences since 1992. Click HERE to read more about Dr. Weise.
---
3. Daily Lectionary
Rev. Christopher Stout from Abundant Life Lutheran Church in Charlotte, NC & Mt. Calvary Lutheran Church in Kannapolis, NC looks at Acts 19:1-21 "Paul in Ephesus".
---
4. Matins Sermonette
Today's sermonette is given by Rev. Christopher Stout from Abundant Life Lutheran Church in Charlotte, NC & Mt. Calvary Lutheran Church in Kannapolis, NC.
---
Acts 19:1-21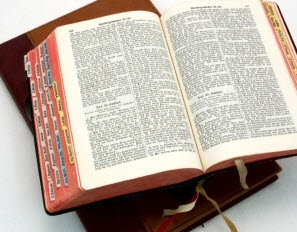 Paul in Ephesus
19 And it happened that while Apollos was at Corinth, Paul passed through the inland[a] country and came to Ephesus. There he found some disciples. 2 And he said to them, "Did you receive the Holy Spirit when you believed?" And they said, "No, we have not even heard that there is a Holy Spirit." 3 And he said, "Into what then were you baptized?" They said, "Into John's baptism." 4 And Paul said, "John baptized with the baptism of repentance, telling the people to believe in the one who was to come after him, that is, Jesus." 5 On hearing this, they were baptized in[b] the name of the Lord Jesus. 6 And when Paul had laid his hands on them, the Holy Spirit came on them, and they began speaking in tongues and prophesying. 7 There were about twelve men in all.
8 And he entered the synagogue and for three months spoke boldly, reasoning and persuading them about the kingdom of God. 9 But when some became stubborn and continued in unbelief, speaking evil of the Way before the congregation, he withdrew from them and took the disciples with him, reasoning daily in the hall of Tyrannus.[c] 10 This continued for two years, so that all the residents of Asia heard the word of the Lord, both Jews and Greeks.
The Sons of Sceva
11 And God was doing extraordinary miracles by the hands of Paul, 12 so that even handkerchiefs or aprons that had touched his skin were carried away to the sick, and their diseases left them and the evil spirits came out of them. 13 Then some of the itinerant Jewish exorcists undertook to invoke the name of the Lord Jesus over those who had evil spirits, saying, "I adjure you by the Jesus whom Paul proclaims." 14 Seven sons of a Jewish high priest named Sceva were doing this. 15 But the evil spirit answered them, "Jesus I know, and Paul I recognize, but who are you?" 16 And the man in whom was the evil spirit leaped on them, mastered all[d] of them and overpowered them, so that they fled out of that house naked and wounded. 17 And this became known to all the residents of Ephesus, both Jews and Greeks. And fear fell upon them all, and the name of the Lord Jesus was extolled. 18 Also many of those who were now believers came, confessing and divulging their practices. 19 And a number of those who had practiced magic arts brought their books together and burned them in the sight of all. And they counted the value of them and found it came to fifty thousand pieces of silver. 20 So the word of the Lord continued to increase and prevail mightily.
A Riot at Ephesus
21 Now after these events Paul resolved in the Spirit to pass through Macedonia and Achaia and go to Jerusalem, saying, "After I have been there, I must also see Rome."
Footnotes:
Acts 19:1 Greek upper (that is, highland)
Acts 19:5 Or into
Acts 19:9 Some manuscripts add from the fifth hour to the tenth (that is, from

11 a.m.

to

4 p.m.

)
Acts 19:16 Or both