Better Back to School Snacks
Nutrition Educator, Laura Morton MS, RD from the St. Louis District Dairy Council tries out some healthy snack recipes with students from St. Paul's Lutheran School, Des Peres, MO. Recipes included below:
Mango Lassi
A sweet-tart treat from India and Pakistan similar to a smoothie with a more "drinkable" consistency.
1⁄2 cup mango puree or chopped fresh or frozen mango
1⁄2 cup plain yogurt
1⁄2 cup cold milk
1 teaspoon fresh lime juice
Build Your Own Fruit Pizza
Graham Crackers
Vanilla Yogurt
Berries
Date Nut Spread
7 dates
4 ounces cream cheese (softened at room temperature)
1 tablespoon buttermilk, yogurt or milk
1⁄4 cup chopped toasted walnuts
—-Serve with apple slices, crackers
Chocolate Milk

1 1/2 cup water
1 cup agave*
2 cup cocoa**
1 Tbs vanilla
dash salt
Whisk cocoa powder and milk together thoroughly in a large saucepan.
Heat and whisk to dissolve the cocoa. (I use medium-low heat).
Add the agave and stir/whisk.
Bring to a boil and boil for 3 minutes. Be sure to watch this VERY carefully. Mine has a tendency to want to boil over immediately, so I have to continuously take it on and off of the burner.
Remove from heat and stir in salt and vanilla extract.
Let cool completely and skim off any skin that may have formed.
Pour into a clean/sterile jar with a spout and store covered in the refrigerator.
---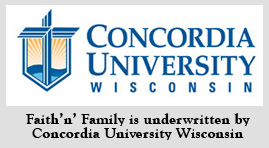 Send in your family questions to Family@kfuo.org or call host Andy Bates at (314) 996-1519 .
---