1.Christian Bioethics
Dr. Robert Weise

Dr. Bob Weise talks about issues related to Christian bioethics.

Bioethics is the study of controversial ethics brought about by advances in biology and medicine. Bioethicists are concerned with the ethical questions that arise in the relationships among life sciences, biotechnology, medicine, politics, law, and philosophy.
About Dr. Weise: Dr. Robert W. Weise is professor of practical theology. Eastern Illinois University, Charleston, Illinois (B.S. in Ed. 1967); University of Illinois, Urbana, Illinois (M.S. 1970, Ph.D. 1973); Concordia Seminary, St. Louis, Missouri (M.Div. 1982); instructor, Kansas State University, Manhattan, Kansas (1972-73); research associate, Wayne State University, Detroit, Michigan (1973-74); assistant professor (1974-78); pastor, Zion, Bunker Hill, Illinois (1982-85); senior pastor, Our Savior's, Springfield, Illinois (1985-92); associate professor, Concordia Seminary, St. Louis, Missouri (1992-2002); professor since 2002; The Lutheran Foundation of St. Louis Chair in Pastoral Ministry and the Life Sciences since 1992. Click HERE to read more about Dr. Weise.
---
2. Daily Lectionary
Rev. Warren Graff of Grace Lutheran Church in Albuquerque, NM looks at Revelation 9:1-12.
---
3. Matins Sermonette
Today's sermonette is by Rev. Warren Graff of Grace Lutheran Church in Albuquerque, NM
---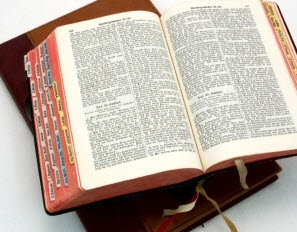 Revelation 9:1-12
9 And the fifth angel blew his trumpet, and I saw a star fallen from heaven to earth, and he was given the key to the shaft of the bottomless pit.[a] 2 He opened the shaft of the bottomless pit, and from the shaft rose smoke like the smoke of a great furnace, and the sun and the air were darkened with the smoke from the shaft. 3 Then from the smoke came locusts on the earth, and they were given power like the power of scorpions of the earth. 4 They were told not to harm the grass of the earth or any green plant or any tree, but only those people who do not have the seal of God on their foreheads. 5 They were allowed to torment them for five months, but not to kill them, and their torment was like the torment of a scorpion when it stings someone. 6 And in those days people will seek death and will not find it. They will long to die, but death will flee from them.
7 In appearance the locusts were like horses prepared for battle: on their heads were what looked like crowns of gold; their faces were like human faces, 8 their hair like women's hair, and their teeth like lions' teeth; 9 they had breastplates like breastplates of iron, and the noise of their wings was like the noise of many chariots with horses rushing into battle. 10 They have tails and stings like scorpions, and their power to hurt people for five months is in their tails. 11 They have as king over them the angel of the bottomless pit. His name in Hebrew is Abaddon, and in Greek he is called Apollyon.[b]
12 The first woe has passed; behold, two woes are still to come.
Footnotes:
Revelation 9:1 Greek the abyss; also verses 2, 11
Revelation 9:11 Abaddon means destruction; Apollyon means destroyer