1. Lutheran Senior Services

Sue Dressel and Kathi Bell of Lutheran Senior Services discuss how we need to care for our Senior Citizens.
Lutheran Senior Services is a faith-based, mission-driven not-for-profit network that specializes in enhancing life for seniors, ages 62-plus. With 19 locations in Missouri and Illinois, we offer quality choices and exceptional support for retirement living. Through affordable housing sites, in-home services and senior living communities, they provide a person-centered approach to a comprehensive continuum of life choices. Building upon a tradition of excellence for more than 150 years, Lutheran Senior Services is fulfilling its Christian mission of Older Adults Living Life to the Fullest.
---
2. Historically Speaking

Hosted by the Concordia Historical Institute.
Learn more at ConcordiaHistoricalInstitute.org.

---
3. Daily Lectionary
Rev. Duncan McLellan of Zion Lutheran Church in Bridgeville, PA looks at Romans 1:1-17 "The Righteous Shall Live by Faith".
---
4. Matins Sermonette
Today's sermonette is given by Rev. Duncan McLellan of Zion Lutheran Church in Bridgeville, PA.
---
Romans 1:1-17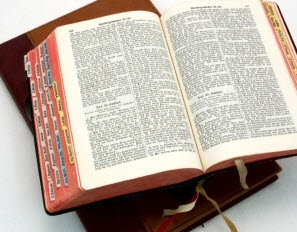 Greeting
1 Paul, a servant[a] of Christ Jesus, called to be an apostle, set apart for the gospel of God, 2 which he promised beforehand through his prophets in the holy Scriptures, 3 concerning his Son, who was descended from David[b] according to the flesh 4 and was declared to be the Son of God in power according to the Spirit of holiness by his resurrection from the dead, Jesus Christ our Lord, 5 through whom we have received grace and apostleship to bring about the obedience of faith for the sake of his name among all the nations, 6 including you who are called to belong to Jesus Christ,
7 To all those in Rome who are loved by God and called to be saints:
Grace to you and peace from God our Father and the Lord Jesus Christ.
Longing to Go to Rome
8 First, I thank my God through Jesus Christ for all of you, because your faith is proclaimed in all the world. 9 For God is my witness, whom I serve with my spirit in the gospel of his Son, that without ceasing I mention you 10 always in my prayers, asking that somehow by God's will I may now at last succeed in coming to you. 11 For I long to see you, that I may impart to you some spiritual gift to strengthen you— 12 that is, that we may be mutually encouraged by each other's faith, both yours and mine. 13 I do not want you to be unaware, brothers,[c] that I have often intended to come to you (but thus far have been prevented), in order that I may reap some harvest among you as well as among the rest of the Gentiles. 14 I am under obligation both to Greeks and to barbarians,[d] both to the wise and to the foolish. 15 So I am eager to preach the gospel to you also who are in Rome.
The Righteous Shall Live by Faith
16 For I am not ashamed of the gospel, for it is the power of God for salvation to everyone who believes, to the Jew first and also to the Greek. 17 For in it the righteousness of God is revealed from faith for faith,[e] as it is written, "The righteous shall live by faith."[f]
Footnotes:
Romans 1:1 Or slave (for the contextual rendering of the Greek word doulos, see Preface)
Romans 1:3 Or who came from the offspring of David
Romans 1:13 Or brothers and sisters. The plural Greek word adelphoi (translated "brothers") refers to siblings in a family. In New Testament usage, depending on the context, adelphoi may refer either to men or to both men and women who are siblings (brothers and sisters) in God's family, the church
Romans 1:14

That is, non-Greeks

Romans 1:17 Or beginning and ending in faith
Romans 1:17 Or The one who by faith is righteous shall live