1. Lutheran Senior Services

Jane Wilke at Lutheran Senior Services discusses how we need to care for our Senior Citizens.
Lutheran Senior Services is a faith-based, mission-driven not-for-profit network that specializes in enhancing life for seniors, ages 62-plus. With 19 locations in Missouri and Illinois, we offer quality choices and exceptional support for retirement living. Through affordable housing sites, in-home services and senior living communities, they provide a person-centered approach to a comprehensive continuum of life choices. Building upon a tradition of excellence for more than 150 years, Lutheran Senior Services is fulfilling its Christian mission of Older Adults Living Life to the Fullest.
---
2. Historically Speaking

Hosted by the Concordia Historical Institute.
Learn more at ConcordiaHistoricalInstitute.org.

---
3. Daily Lectionary
Rev. Mark Braden of Zion Lutheran Church in Detroit, MI looks at Mark 7:24-37 "The Syrophoenician Woman's Faith".
---
4. Matins Sermonette
Today's sermonette is given by Rev. Dennis Thompson of Zion Lutheran Church in Matteson, IL.
---
Mark 7:24-37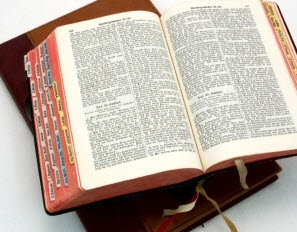 The Syrophoenician Woman's Faith
24 And from there he arose and went away to the region of Tyre and Sidon.[a] And he entered a house and did not want anyone to know, yet he could not be hidden. 25 But immediately a woman whose little daughter had an unclean spirit heard of him and came and fell down at his feet. 26 Now the woman was a Gentile, a Syrophoenician by birth. And she begged him to cast the demon out of her daughter. 27 And he said to her, "Let the children be fed first, for it is not right to take the children's bread and throw it to the dogs." 28 But she answered him, "Yes, Lord; yet even the dogs under the table eat the children's crumbs." 29 And he said to her, "For this statement you may go your way; the demon has left your daughter." 30 And she went home and found the child lying in bed and the demon gone.
Jesus Heals a Deaf Man
31 Then he returned from the region of Tyre and went through Sidon to the Sea of Galilee, in the region of the Decapolis. 32 And they brought to him a man who was deaf and had a speech impediment, and they begged him to lay his hand on him. 33 And taking him aside from the crowd privately, he put his fingers into his ears, and after spitting touched his tongue. 34 And looking up to heaven, he sighed and said to him, "Ephphatha," that is, "Be opened." 35 And his ears were opened, his tongue was released, and he spoke plainly. 36 And Jesus[b] charged them to tell no one. But the more he charged them, the more zealously they proclaimed it. 37 And they were astonished beyond measure, saying, "He has done all things well. He even makes the deaf hear and the mute speak."
Footnotes:
Mark 7:24 Some manuscripts omit and Sidon
Mark 7:36 Greek he