Vocation of Chaplains
Joanie Harwell guest hosts with guests Rev. Tristan Engle, preparing to serve as a US Navy Chaplain and Rev. Craig Muehler, Director of LCMS Ministry to Armed Forces discuss becoming a chaplain in the armed forces.  Rev. Frank Ruffatto discusses Peace Office Ministries and chaplains to police.
---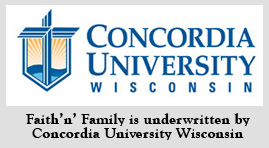 Send in your family questions to Family@kfuo.org or call host Andy Bates at (314) 996-1519 .
---