Common Misconceptions About the Blind, and Ministry & Outreach to the Blind
Guests Rev. David Andrus and Dale Oberkramer talk about living as a blind person and learning how to manage every day life.  They also discuss the Outreach to the Blind and Visually Impaired (B&VI) center, specifically in Eureka, MO. Losing sight, either partially or completely, leads to isolation and depression. The centers give the B&VI a place to meet, opportunities for networking, and personal support to help overcome these feelings and also share the Gospel of Jesus.
Visit the Lutheran Braille Workers website to find a center near you.
Rev. David Andrus is pastor to the blind at St. Paul Lutheran Lutheran Church in College Hill, St Louis, Missouri.
Dale Oberkramer is the director of the Eureka Outreach to the Blind and Visually Impaired at St. Mark Lutheran Church, Eureka, Missouri.
---
David Andrus grew up in Wausau, Wisconsin. At age 8, he contracted a rare eye disorder called Coats' disease. By age 11, he was completely blind. With the help of his parents, Andrus continued in the local public school. He learned Braille, mobility, touch typing, and other skills that helped him adapt to a world without sight.
Upon graduating from high school, Andrus attended Concordia College (now University) in St. Paul, Minnesota. He graduated from there in 1981 and then went to Concordia Seminary in St. Louis, Missouri, where he received his Master of Divinity degree in 1985. He later returned to earn his Master of Sacred Theology in 2008. In 2016, Andrus received a Doctor of Letters from his alma mater, Concordia University in St. Paul, Minnesota.
Andrus served as a parish pastor for 13 years at Our Redeemer Lutheran Church in Overland, Missouri. He then was the Executive Director of Lutheran Blind Mission (LBM) for the next 14 years. LBM expanded to include Outreach Centers, where blind people reach out to other blind people with social aid and Christian love, and the Christian Blind Institute, a correspondence school that trains blind and visually impaired people to be leaders. More than 90 Outreach Centers were developed and 120 people enrolled in the Institute during his tenure.
In 2012, Andrus helped unify LBM with Lutheran Braille Workers (LBW) of Yucaipa California. After one year, he stepped away, waiting to see what God had in store for him.
In 2014, Andrus began serving St. Paul's Lutheran Church, a small parish in an inner-city neighborhood of St. Louis. He has been able to apply his experience with small groups and mission work to help the congregation experience steady growth. In January 2016, he was installed there as a self-funded pastor to the blind. This new internet ministry to people, Not-Alone.net, provides two different weekly podcasts, a monthly newsletter to inform and connect the 50-plus outreach centers that remain, and a newsletter to inform supporters and donors.
Andrus and his wife, Debb, are the parents of Victoria and Margaret. Debb works as a copy editor at Concordia Publishing House. Together, they enjoy collecting antiques, attending live theater, and spending time with their children.
Andrus enjoys woodworking and carpentry. He has made much of their furniture and also extensively remodeled each of their four homes. He offers this service to people who are blind in the St. Louis area, too, saying, "Many people don't know who to turn to for home repairs. They wonder if they can trust someone and often can't afford the going price of a handyman. So I'm glad to do it for them and ask nothing."
---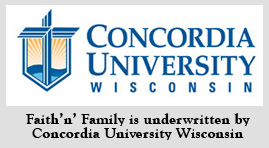 Send in your family questions to Family@kfuo.org or call host Andy Bates at (314) 996-1519 .
---