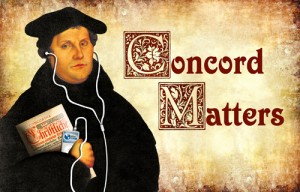 Host Pastor Joshua Scheer and guests Pastor Hans Fiene and Pastor David Mueller discuss the seventh petition of the Lord's Prayer from the Large Catechism. Joshua Scheer is Senior Pastor of Our Savior Lutheran Church in Cheyenne, Wyoming. Hans Fiene is Pastor of River of Life Lutheran Church in Channahon, Illinois. David Mueller is Pastor of Trinity Lutheran in Goodland and St. John's Lutheran Churche in Rensselaer, Indiana.
---
Concord Matters is hosted by Rev. Charlie Henrickson and Rev. Joshua Scheer.
Do you have questions about this program? Email Andrew.Bates@kfuo.org or call at (314) 996-1519.