Film Review: "Risen"
Dr. Michael Eschelbach discusses the recent Affirm Films production, "Risen." Roman military tribune Clavius (Joseph Fiennes) remains set in his ways after serving 25 years in the army. He arrives at a crossroad when he's tasked to investigate the mystery of what happened to Jesus (Cliff Curtis) following the Crucifixion. Accompanied by trusted aide Lucius (Tom Felton), his quest to disprove rumors of a risen Messiah makes him question his own beliefs and spirituality. As his journey takes him to places never dreamed of, Clavius discovers the truth that he's been seeking.
Reverend Eschelbach was a parish pastor for 15 years before teaching at Concordia University Chicago (14 years) and now Concordia University Irvine. The care of souls and love of truth are evident in his eagerness to help others find the answers they seek, especially answers to the most difficult questions. Professor Eschelbach invests himself in his students as he shows them how to search for the truth among the various witnesses God has provided, especially in the Bible but also in nature, reason, and common human experience. You may find evidence of Dr. Eschelbach's work in his publications, public speaking, and recognition for exemplary teaching. Besides teaching and studies, Michael Eschelbach enjoys sailing, biking along Newport beach, and visiting the redwoods.
---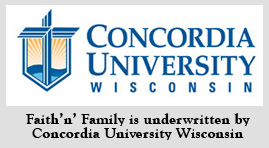 Send in your family questions to Family@kfuo.org or call host Andy Bates at (314) 996-1519 .
---