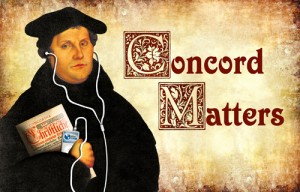 Host Andy Bates and guests Rev. Dr. Joel Lehenbauer, Rev. Dr. Matt Thompson, and Rev. Paul Landgraf discuss The Sacrament of the Altar from the Large Catechism, paragraphs 33-42. Joel Lehenbauer is Director of the Commission on Theology and Church Relations for the Lutheran Church – Missouri Synod. Mart Thompson is pastor of Zion Lutheran Church in Pevely, Missouri. Paul Landgraf is pastor of Pilgrim Lutheran Church in Freedom and St. John Lutheran Church in Drake, Missouri.
Concord Matters is hosted by Rev. Charlie Henrickson and Rev. Joshua Scheer.
Do you have questions about this program? Email Andrew.Bates@kfuo.org or call at (314) 996-1519.